Black has always been synonymous with chic, sophisticated, and edgy when it comes to fashion. In the world of nail art, black can be utilized in countless innovative ways, offering designs that range from minimalist to extravagant.

Let's delve into 40 alluring black nail designs that can inspire your next manicure.

1. Matte Black
Opt for a subdued and sophisticated look with a simple matte black finish. It's chic, timeless, and can transition effortlessly from a casual day to a glamorous night.
2. Glossy & Matte Combo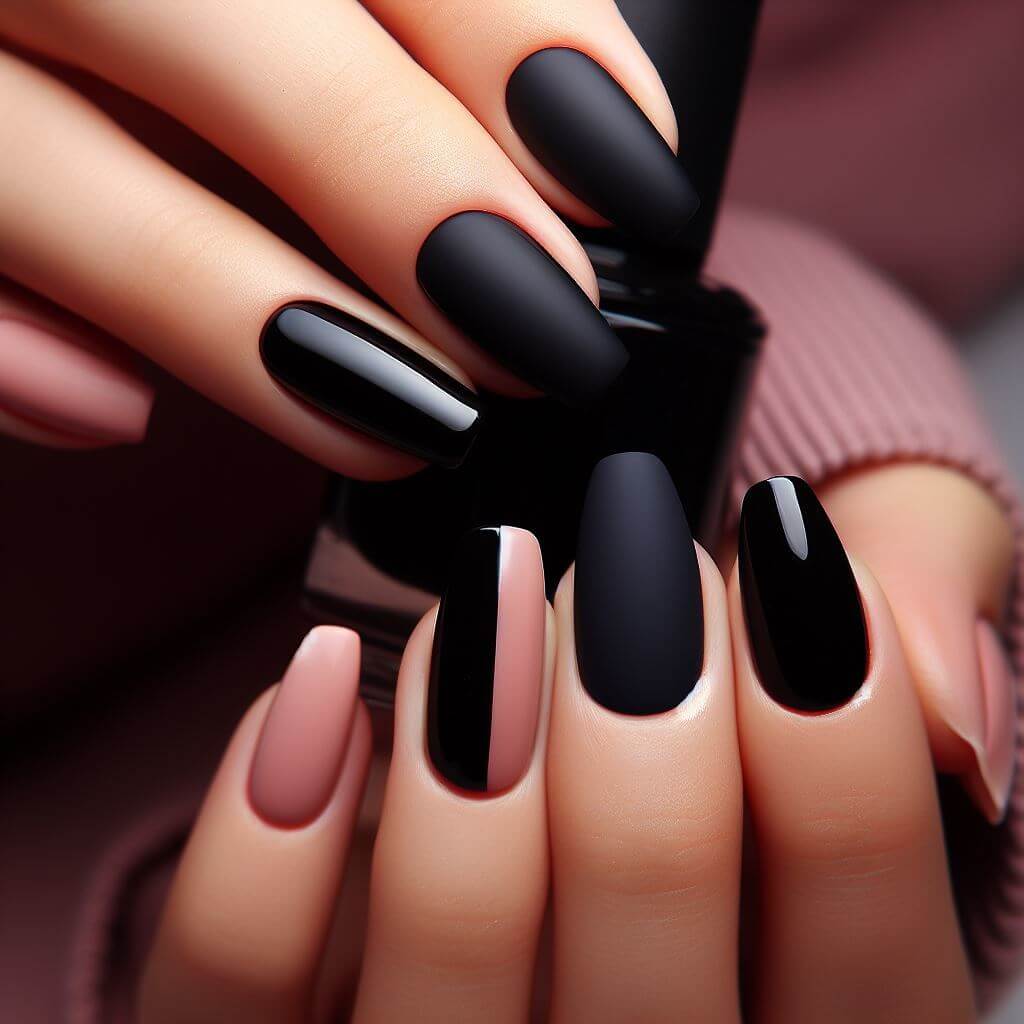 Why settle for one when you can have both? Combine the shimmer of glossy black with the muted elegance of matte on alternating nails or even on the same nail to achieve a contrasting texture.
3. French Tips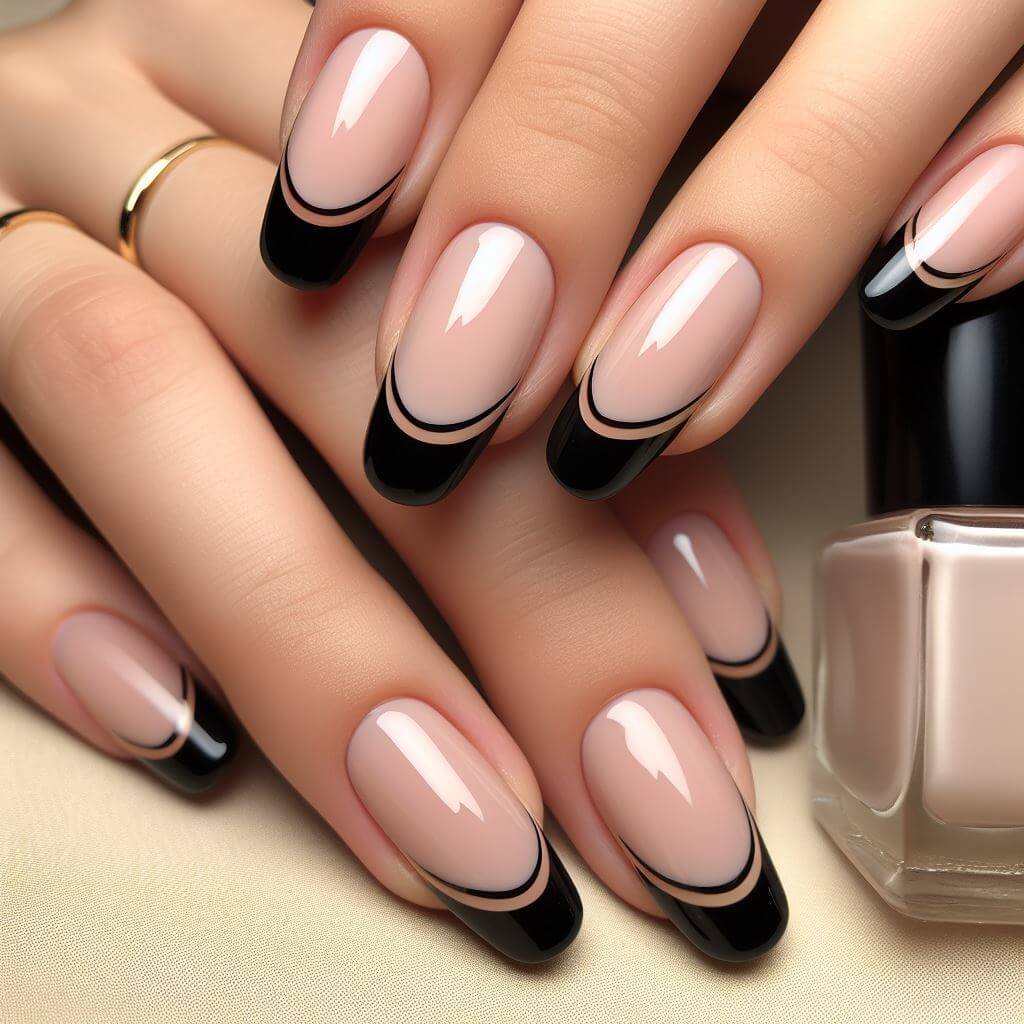 The classic French manicure gets a bold twist with black tips. For a playful inversion, try a black base with metallic or vibrant colored tips.
4. Black and Gold
The epitome of luxury, combine a black base with gold accents—be it glitter, stripes, or intricate designs. It's regal and radiates opulence.
5. Marble Effect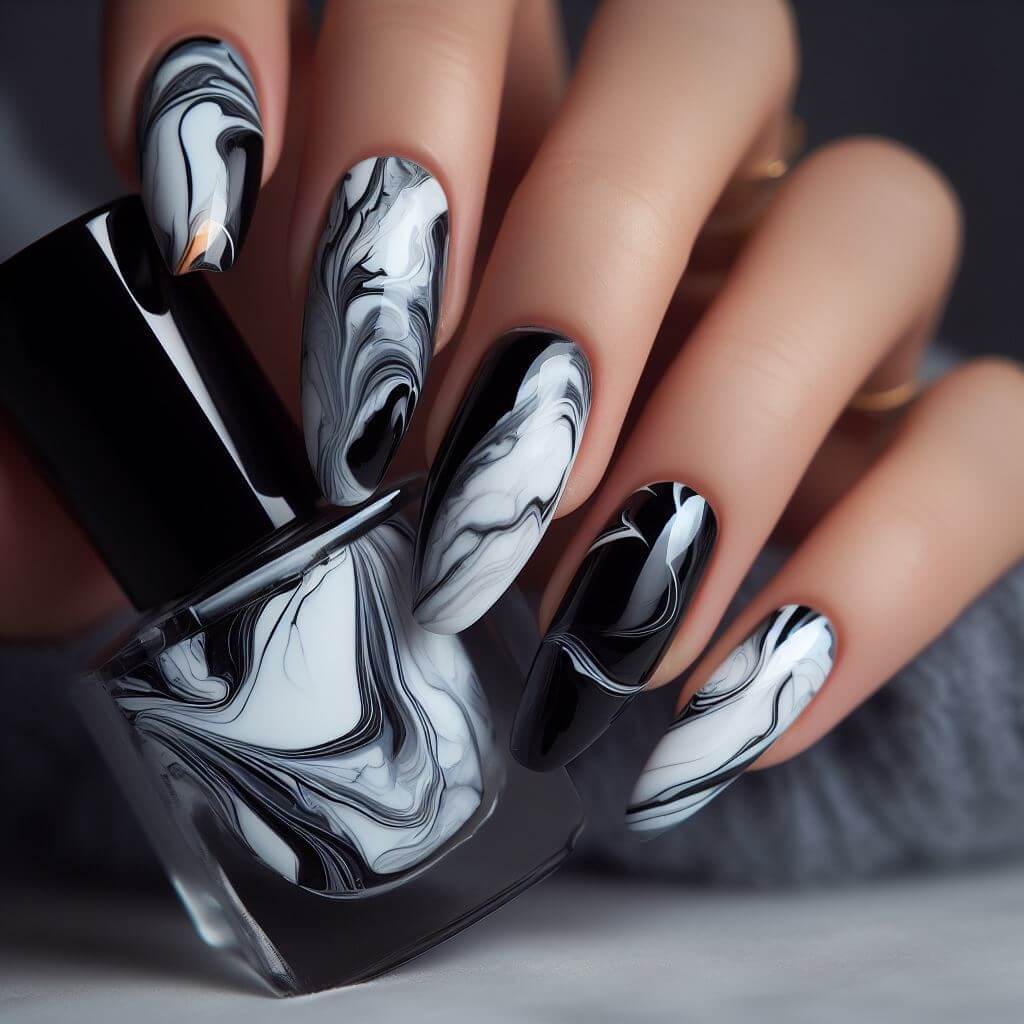 Mimic the swirls of marble by blending black with whites or grays. It's a natural yet stylish way to elevate your nail game.
6. Negative Space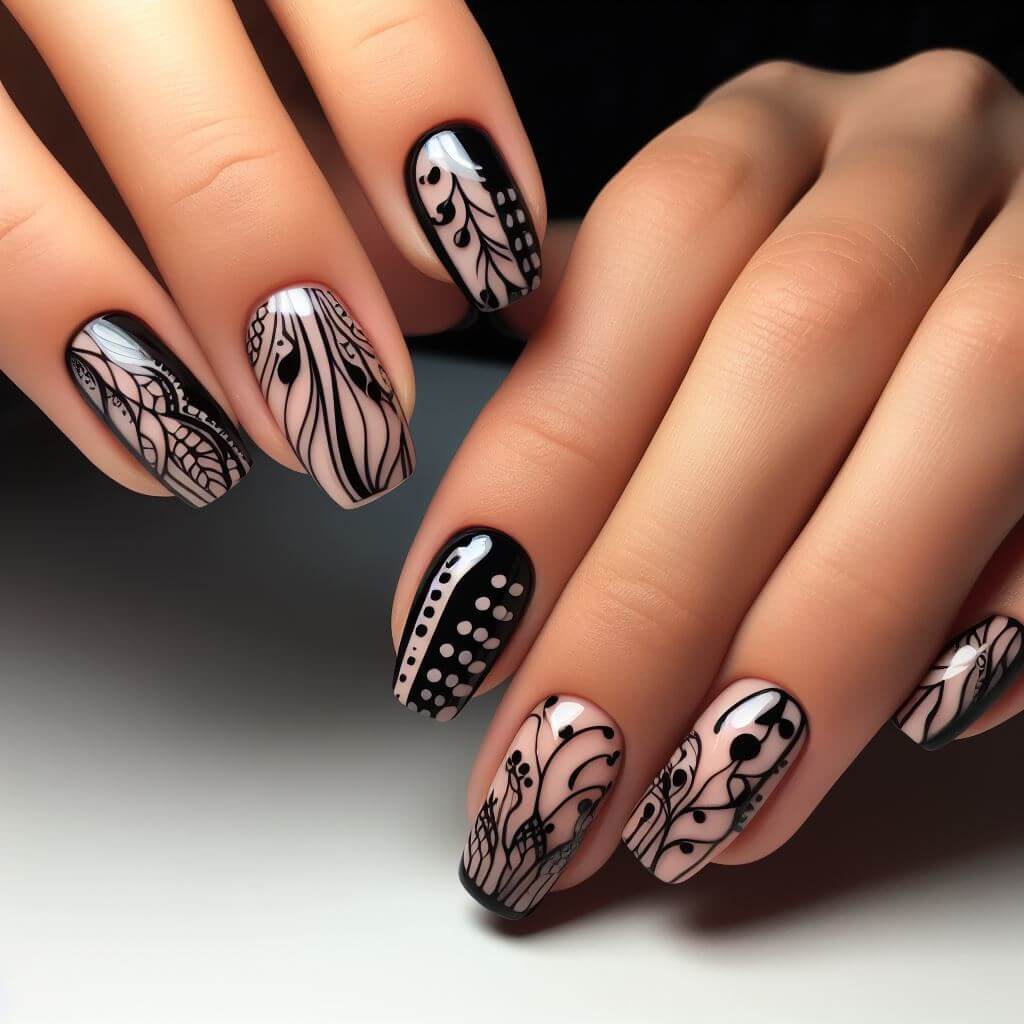 For a more minimalist and avant-garde approach, create patterns or designs leaving some parts of the nail bare or nude. It's contemporary and shows off a deliberate artistic restraint.
7. Lace Designs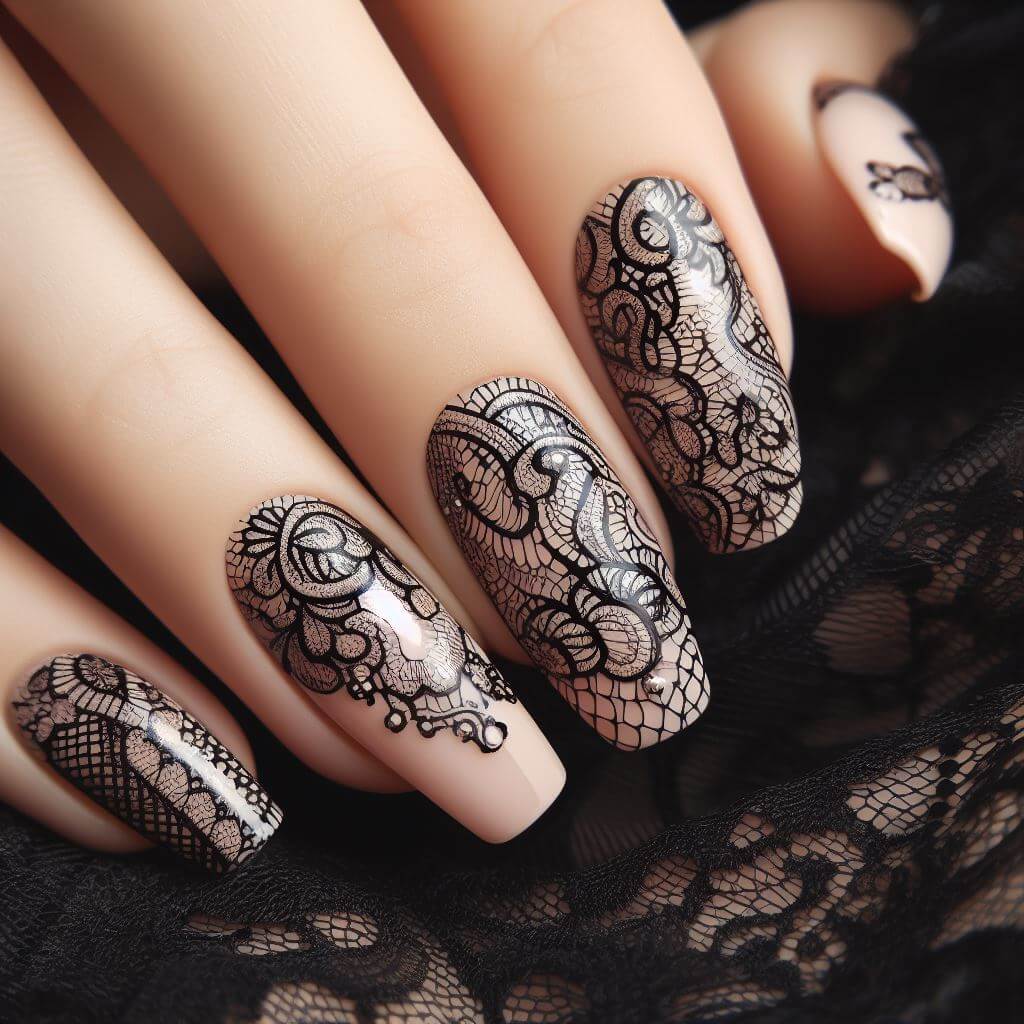 Evoke the femininity and intricacy of lace by painting delicate black lace patterns over a nude or pale base. It's elegant and perfect for romantic occasions.
8. Galaxy Nails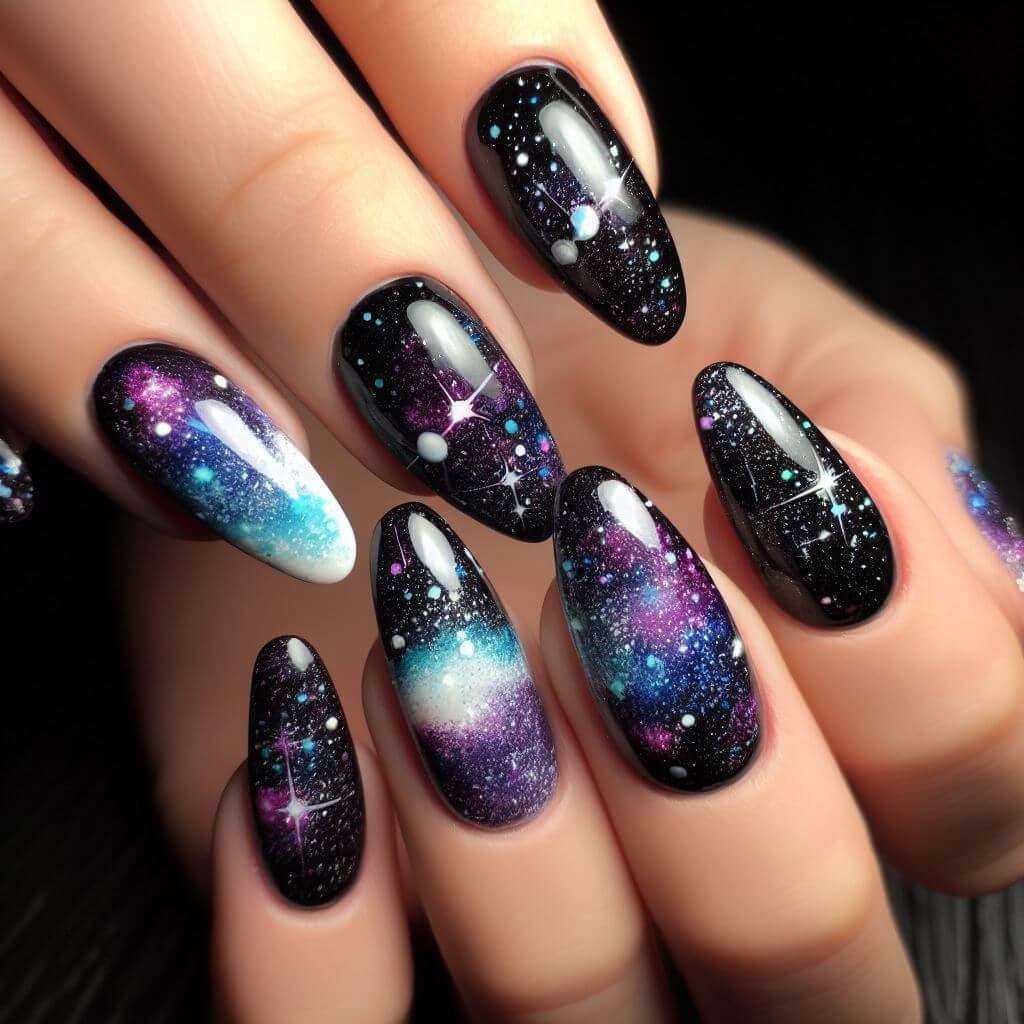 Channel the cosmos by blending blacks, purples, blues, and whites, speckled with glitter. It's a nail design that's truly out of this world.
9. Studded Black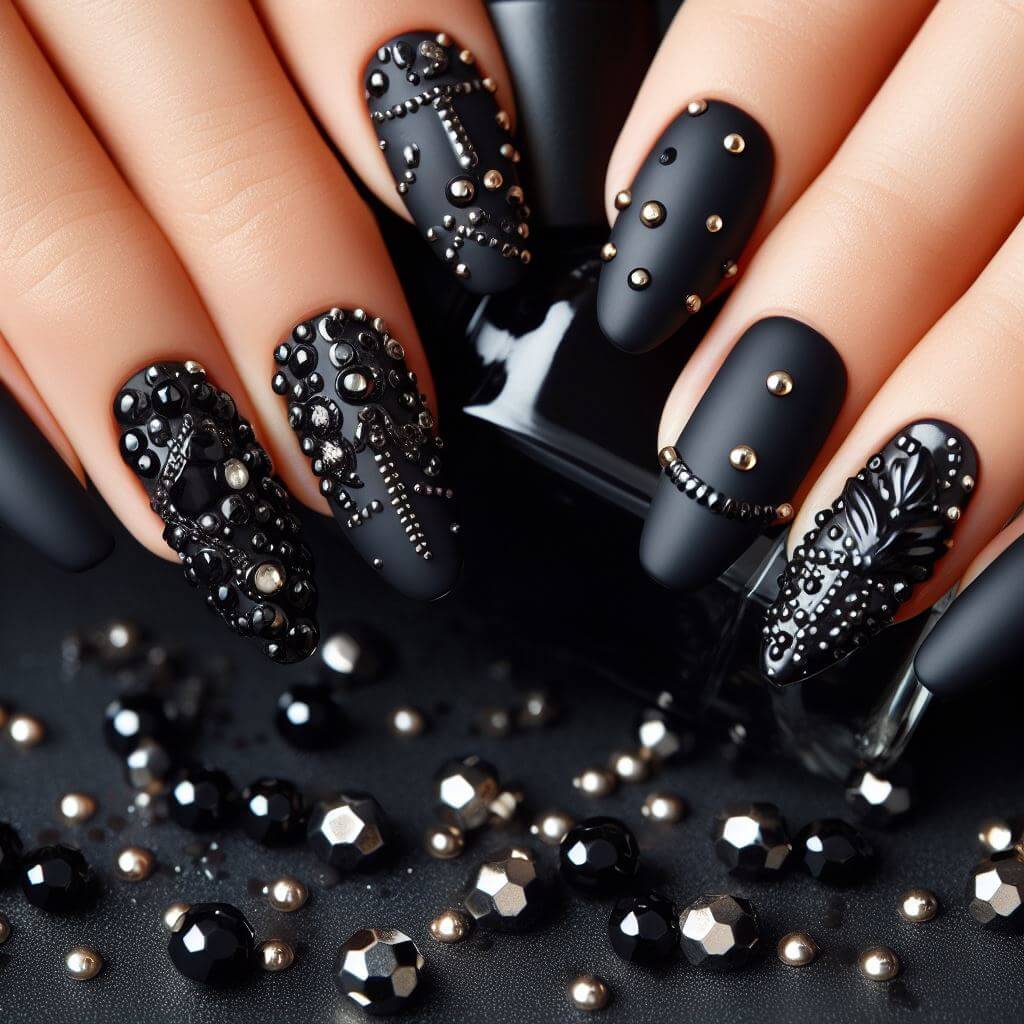 Amp up the edgy quotient by adhering small studs or gems to a glossy or matte black base. It adds dimension and a rocker-chic vibe.
10. Black Ombre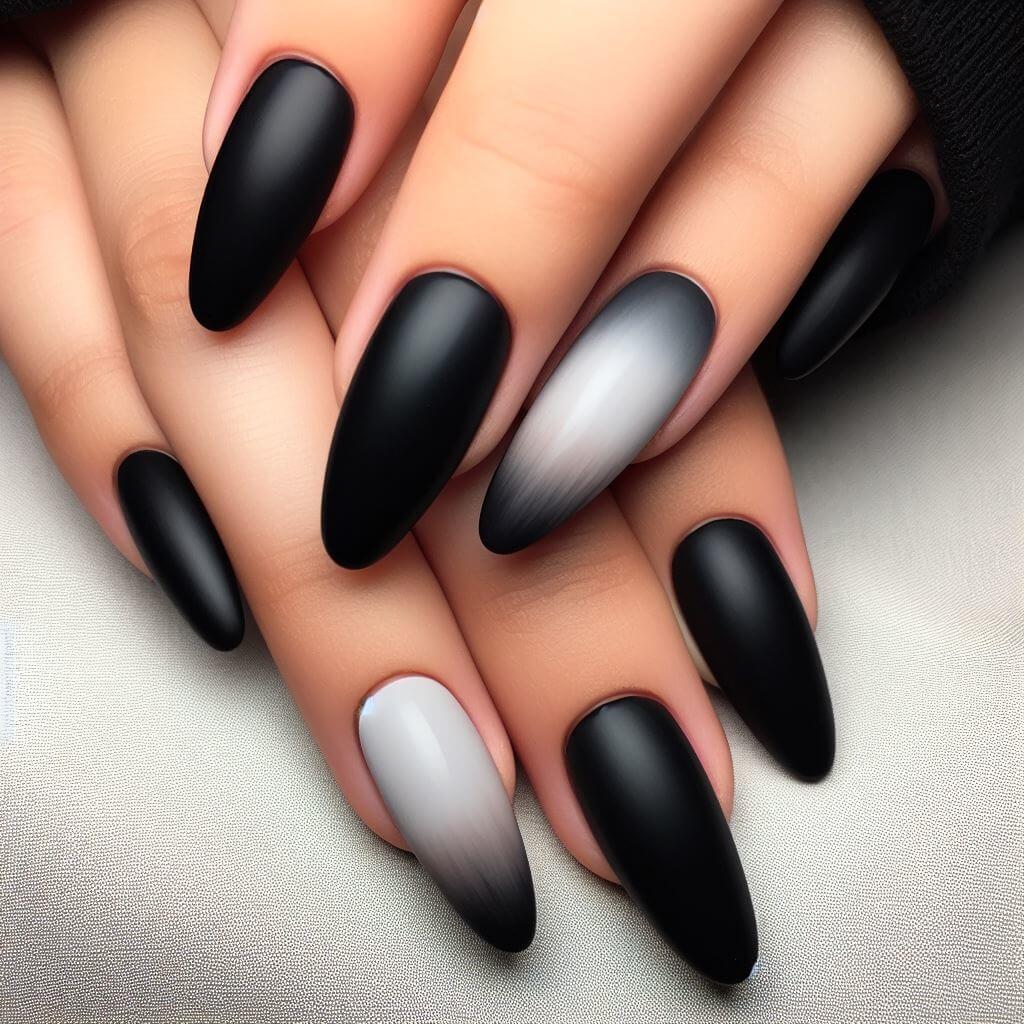 Achieve a gradient effect by transitioning from black at the base to gray or another color towards the tips. It's trendy and visually captivating.
11. Animal Prints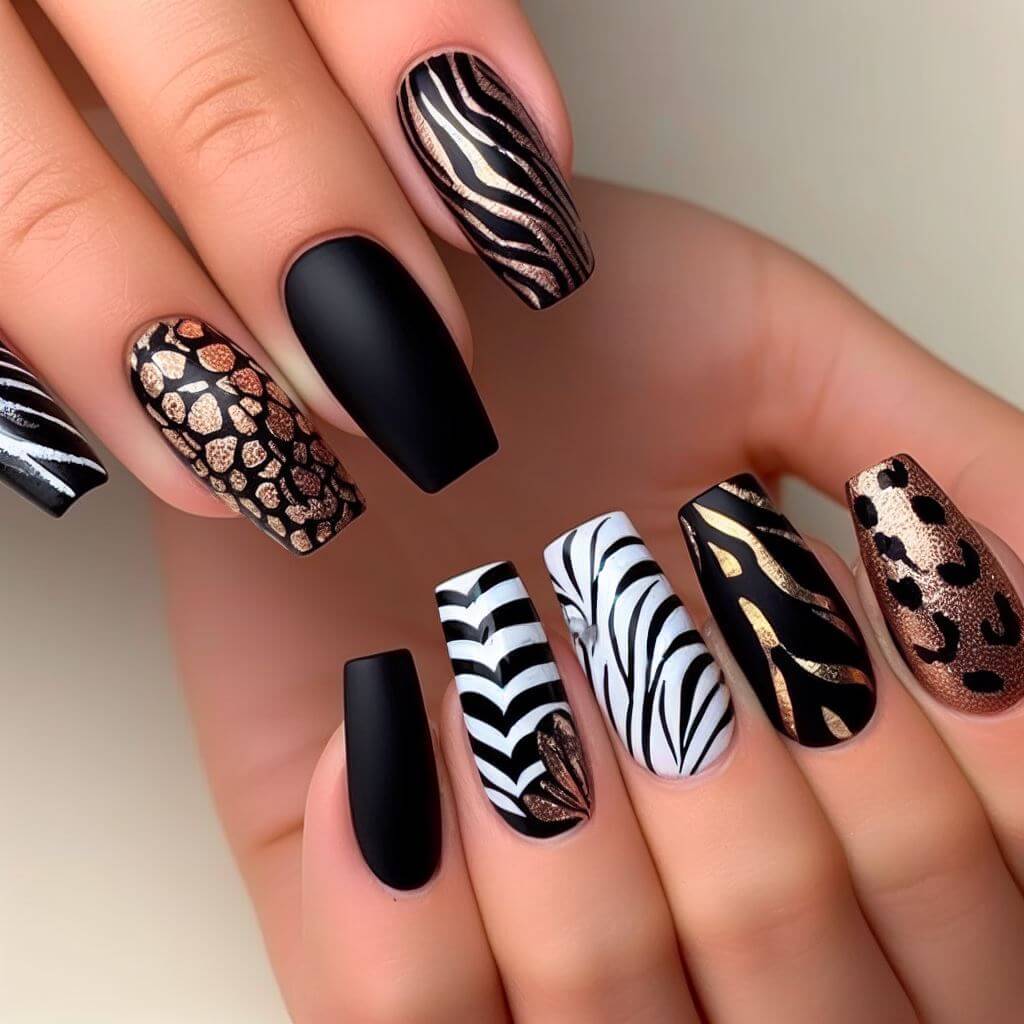 Unleash your wild side with leopard spots or zebra stripes, using black against metallics or vibrant colors. It's a look that's fierce and bold.
12. Floral Patterns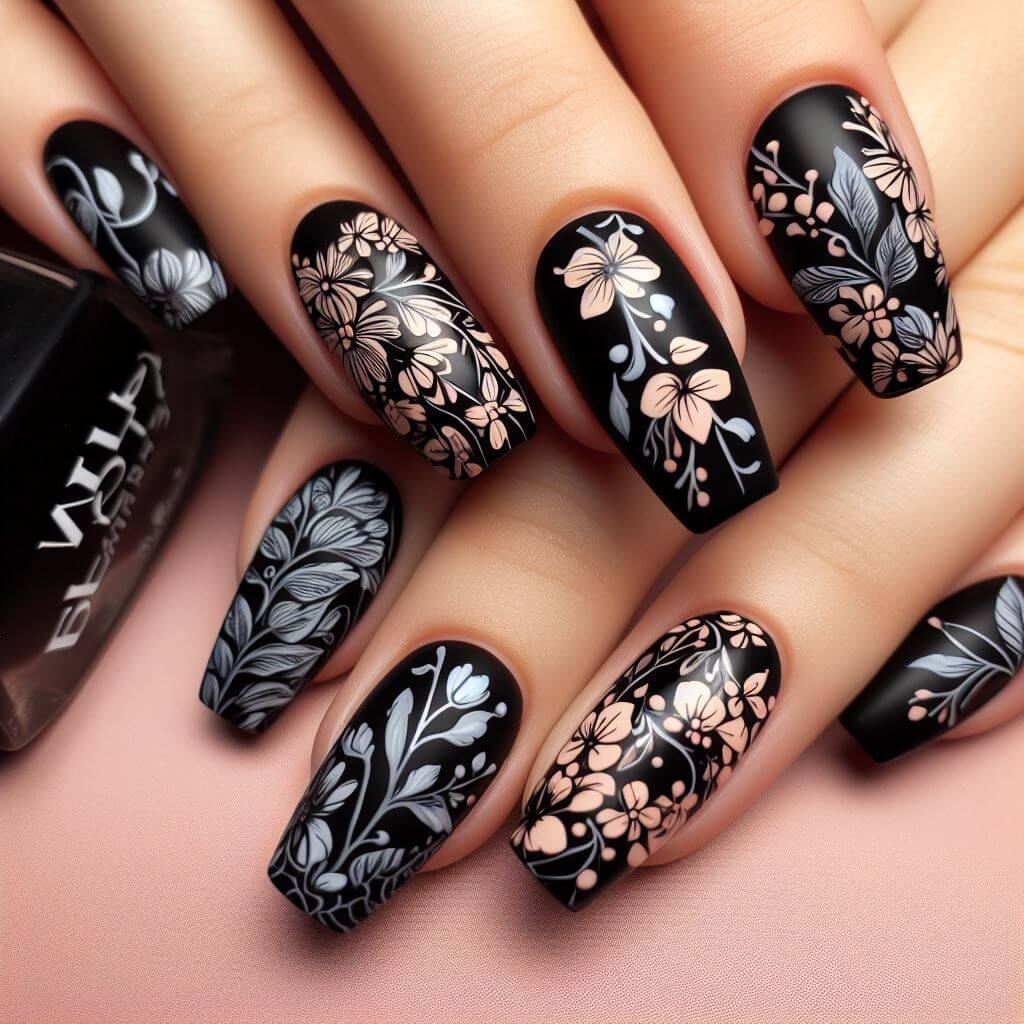 Infuse a touch of spring into your black manicure with contrasting floral designs. Flowers in black can be both mysterious and delightful.
13. Stripes and Lines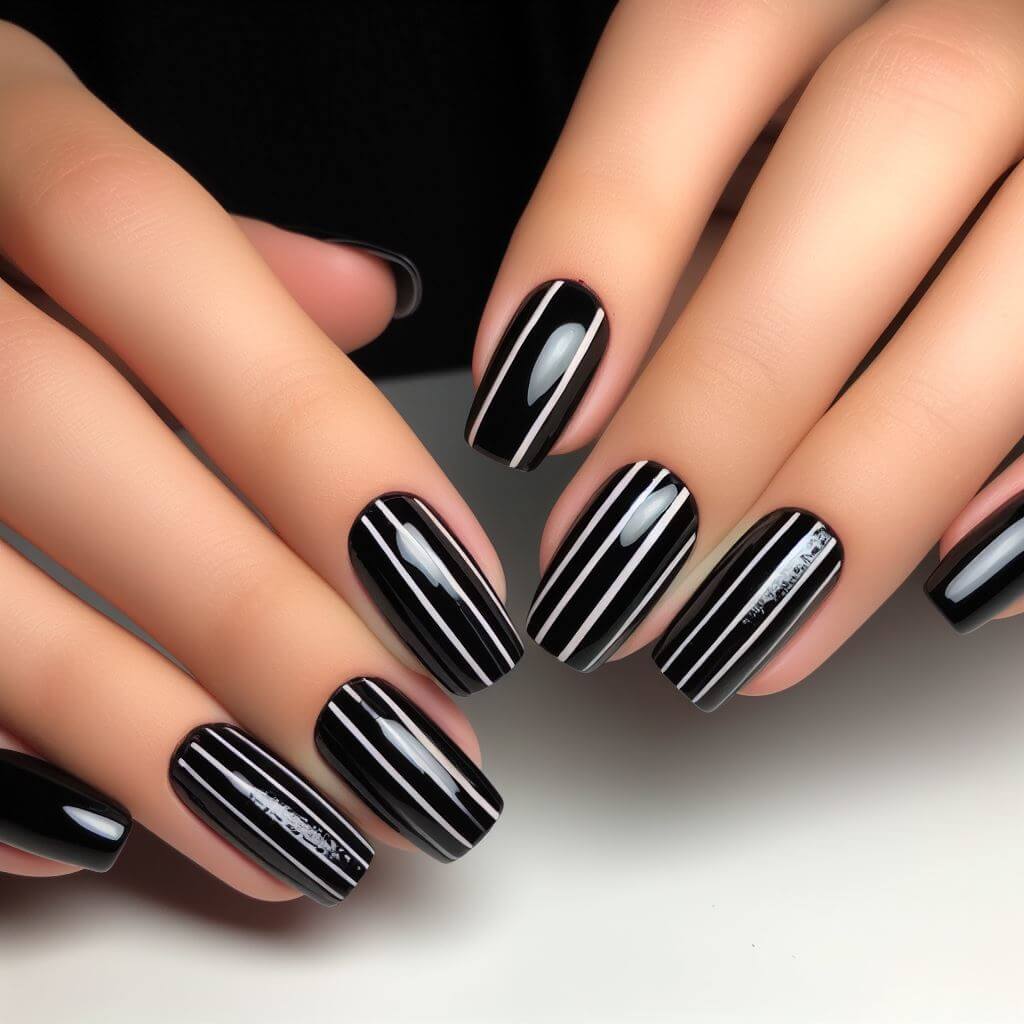 Draw attention with defined vertical, horizontal, or diagonal stripes on contrasting base colors. It's a linear look that's always in vogue.
14. Geometric Patterns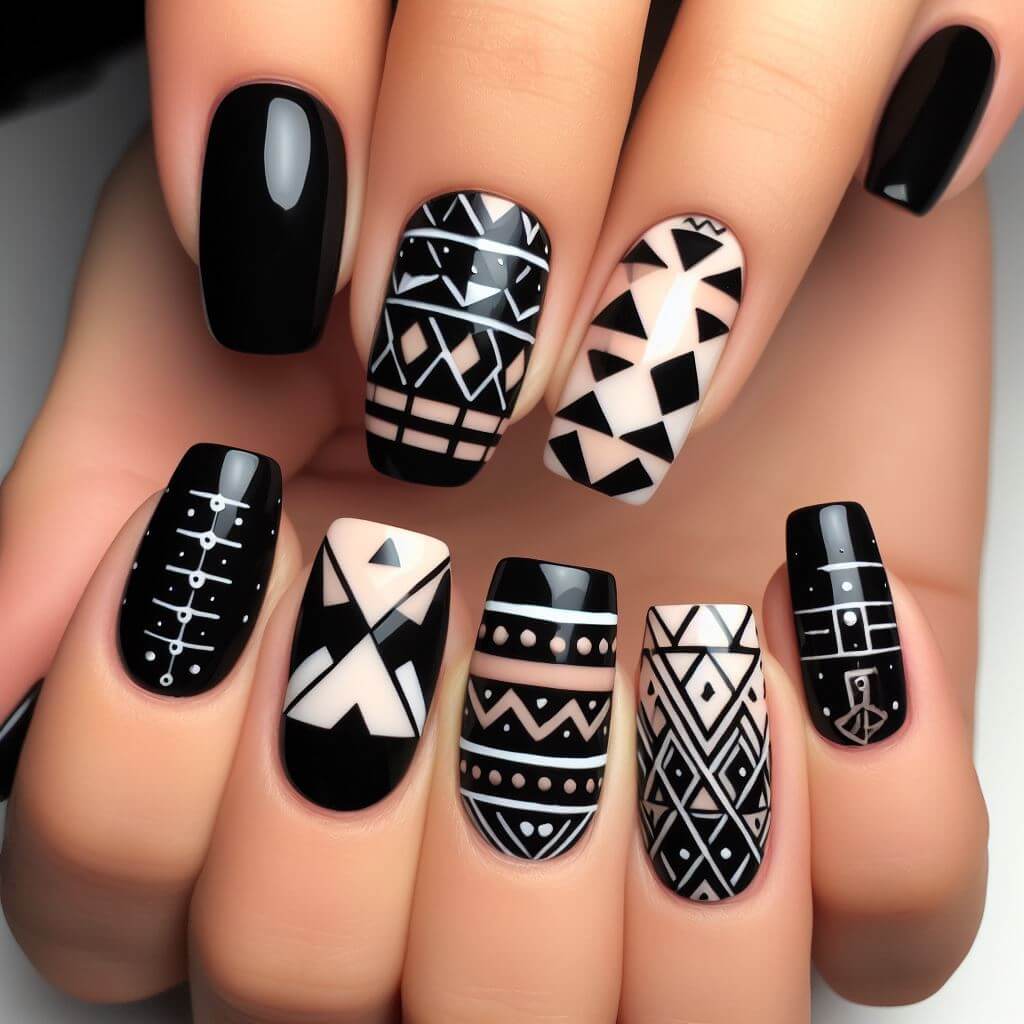 Experiment with shapes like triangles, squares, and hexagons. When combined with black, these patterns exude modernism.
15. Splatter Nails
For a playful and artsy feel, splatter black polish over contrasting bases. It's spontaneous, fun, and every nail becomes a unique masterpiece.
16. Polka Dots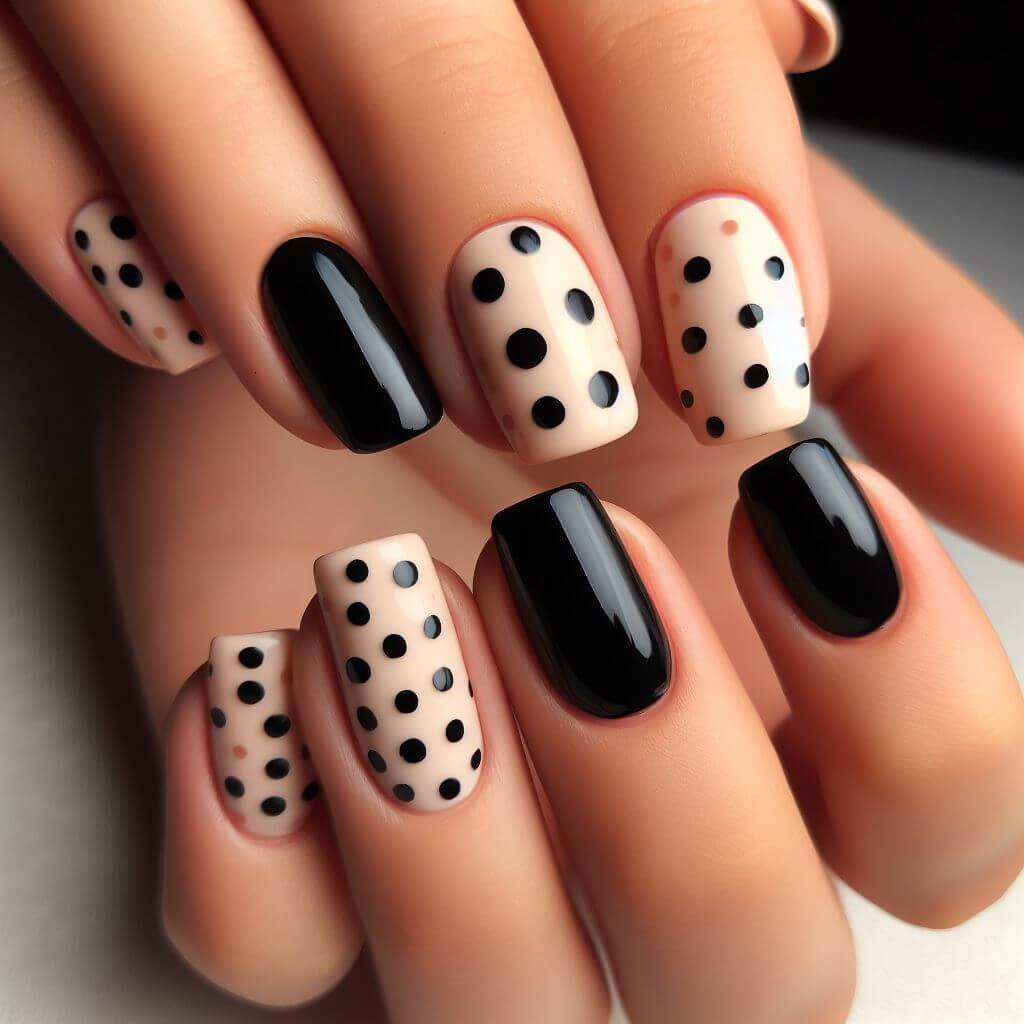 Combine the retro charm of polka dots with the edge of black. Be it on a white, nude, or any contrasting base, it's a timeless choice.
17. Gothic Patterns
Channel a gothic aesthetic by incorporating symbols like crosses, bats, or skulls, making for a manicure that's both edgy and intricate.
18. Halloween Designs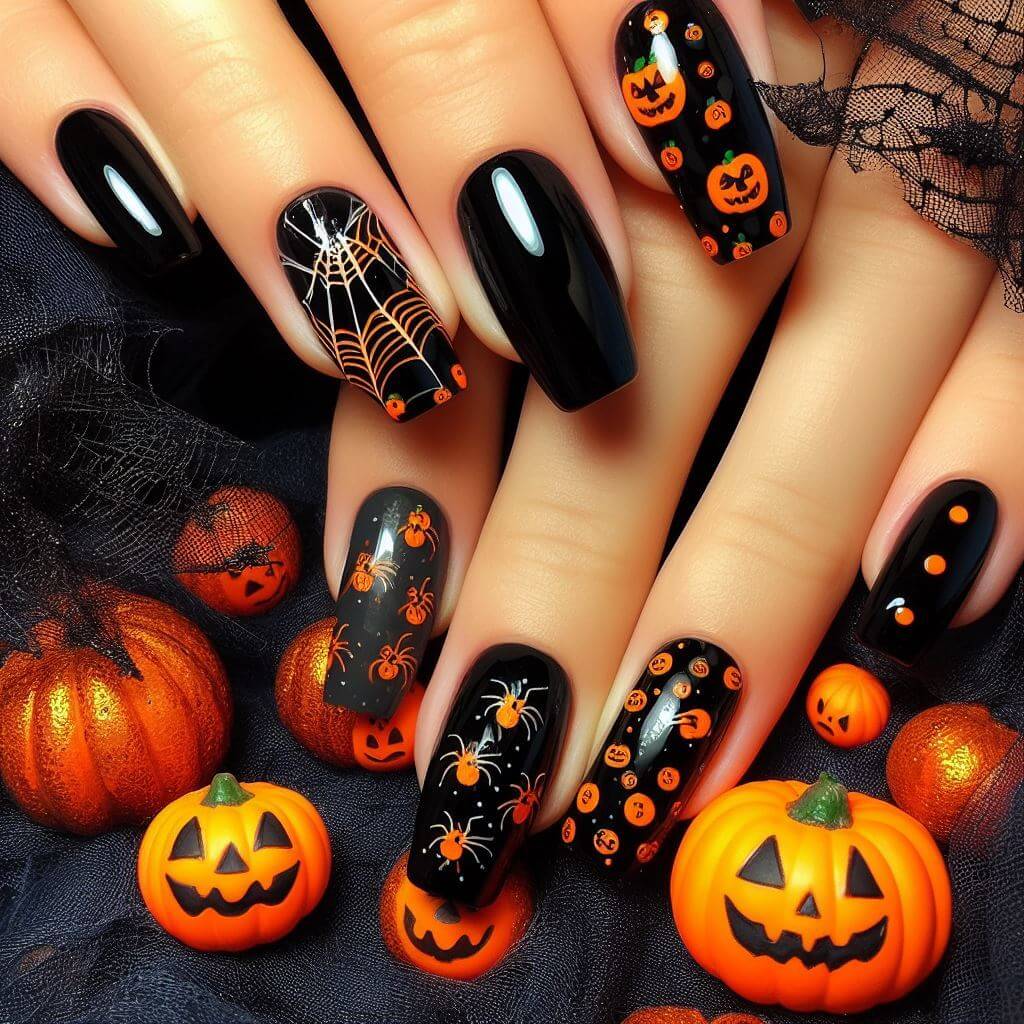 Get into the spooky spirit by blending black with orange or other Halloween hues. Think spiders, webs, and haunted houses.
19. Glitter Gradient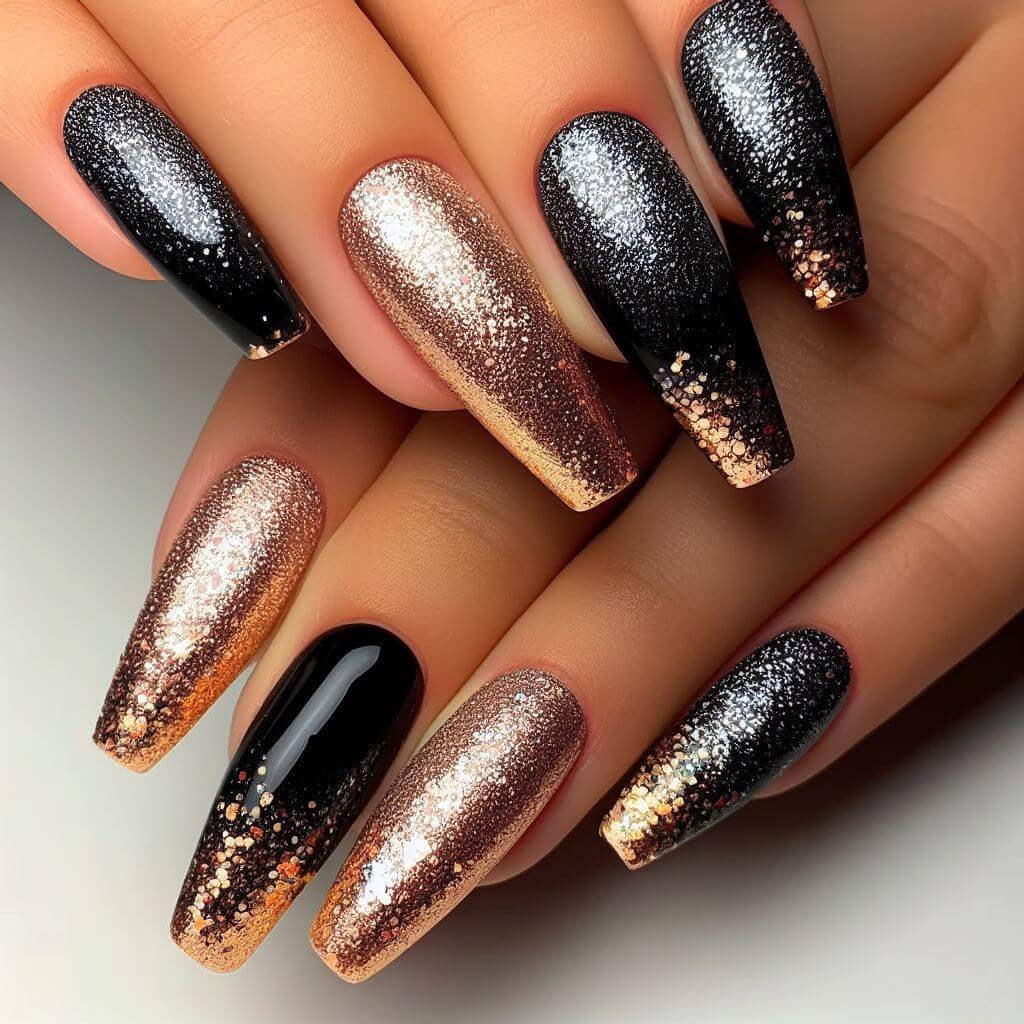 Add some sparkle to your black base by dusting gold or silver glitter, concentrating more towards the tips for a gradient effect.
20. Tuxedo Nails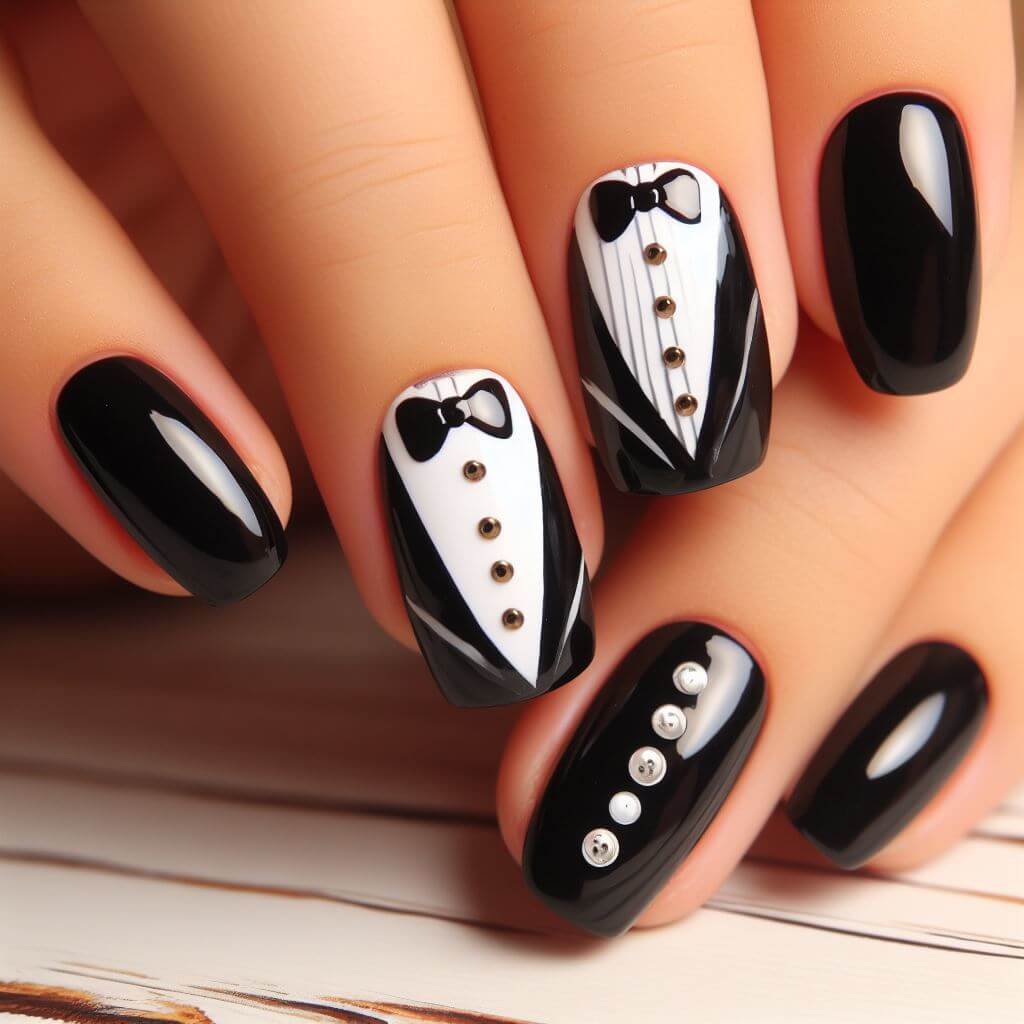 Embrace the elegance of a tuxedo on your nails. Use white and black polish to craft this look, complete with tiny buttons and perhaps a bowtie.
21. Abstract Art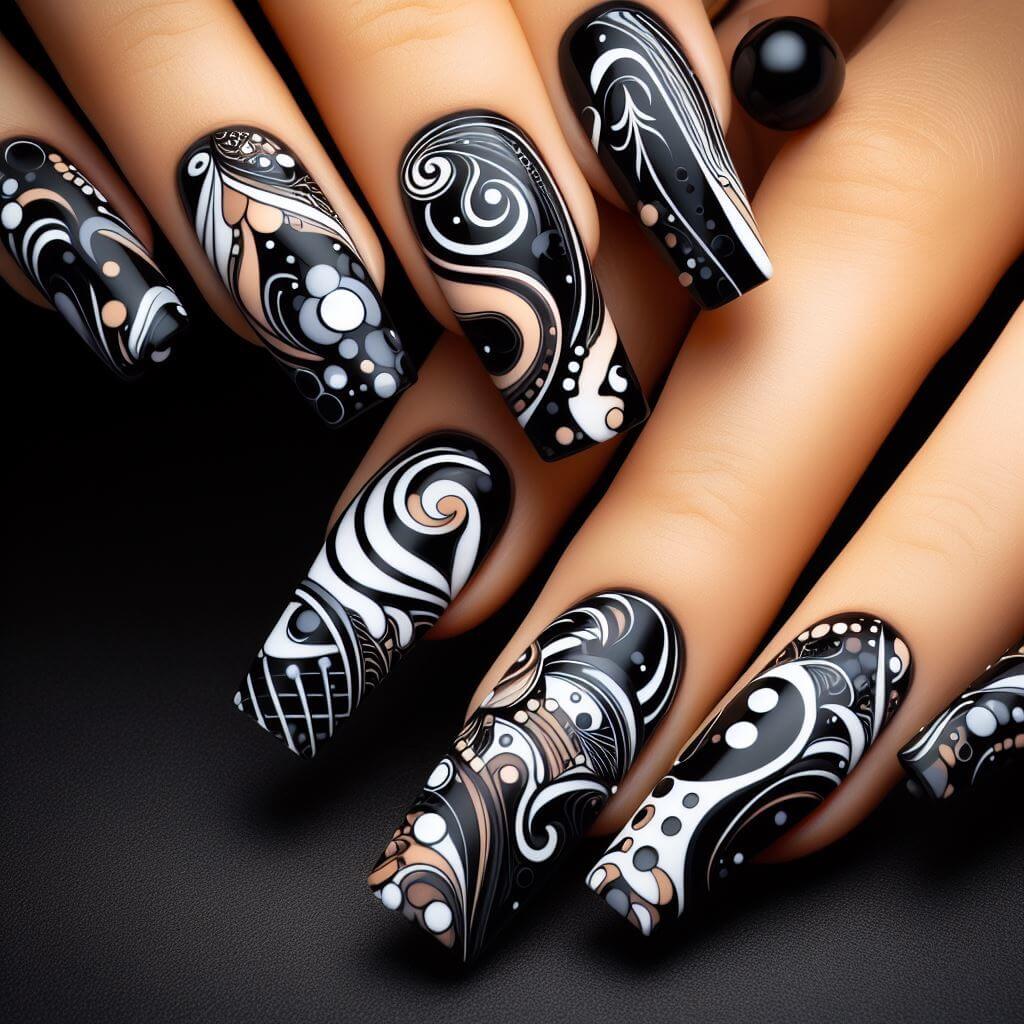 Channel your inner artist by merging black with other colors, creating abstract swirls, strokes, and patterns. Each nail becomes a distinct piece of art, reflecting your unique sense of style.
22. Edge French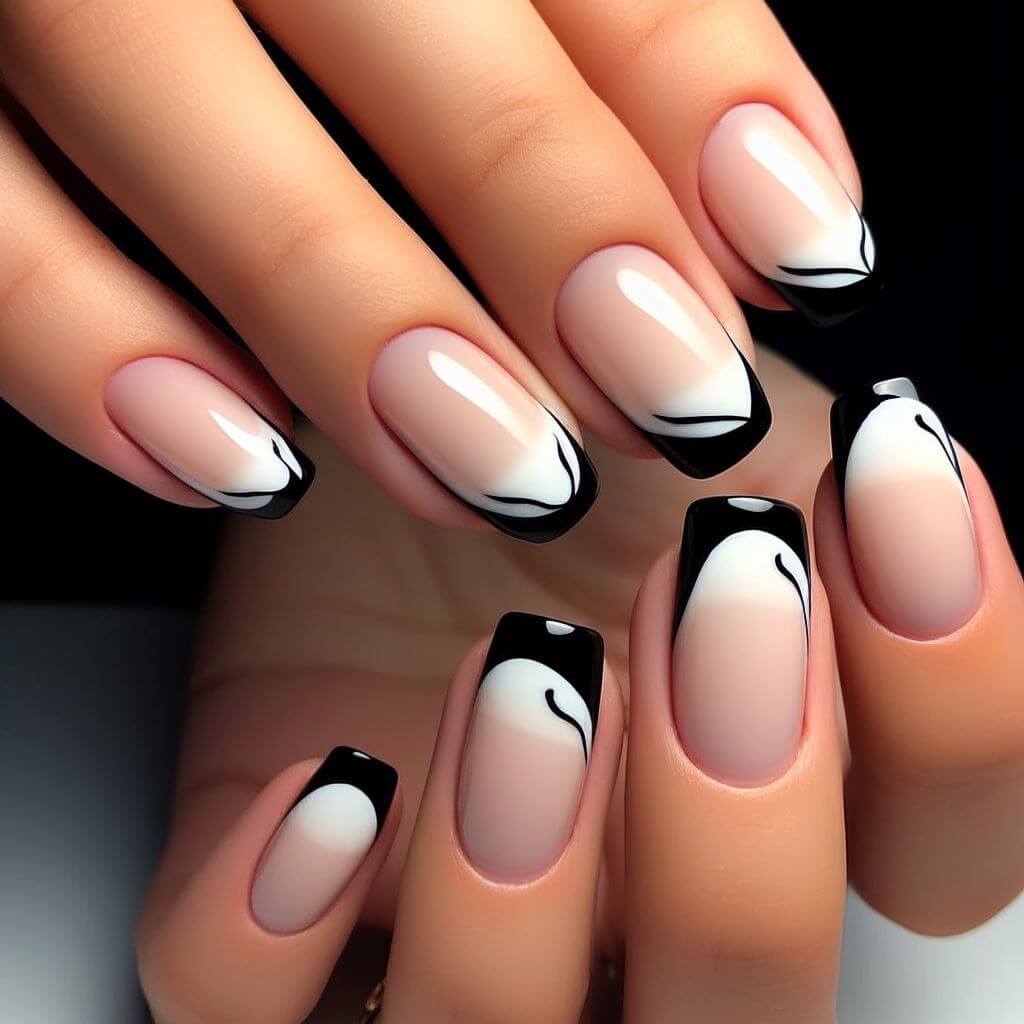 Reimagine the classic French manicure by drawing a black line along the side edge of your nails. This contemporary twist adds an unexpected edge to an old favorite.
23. Cuticle Detailing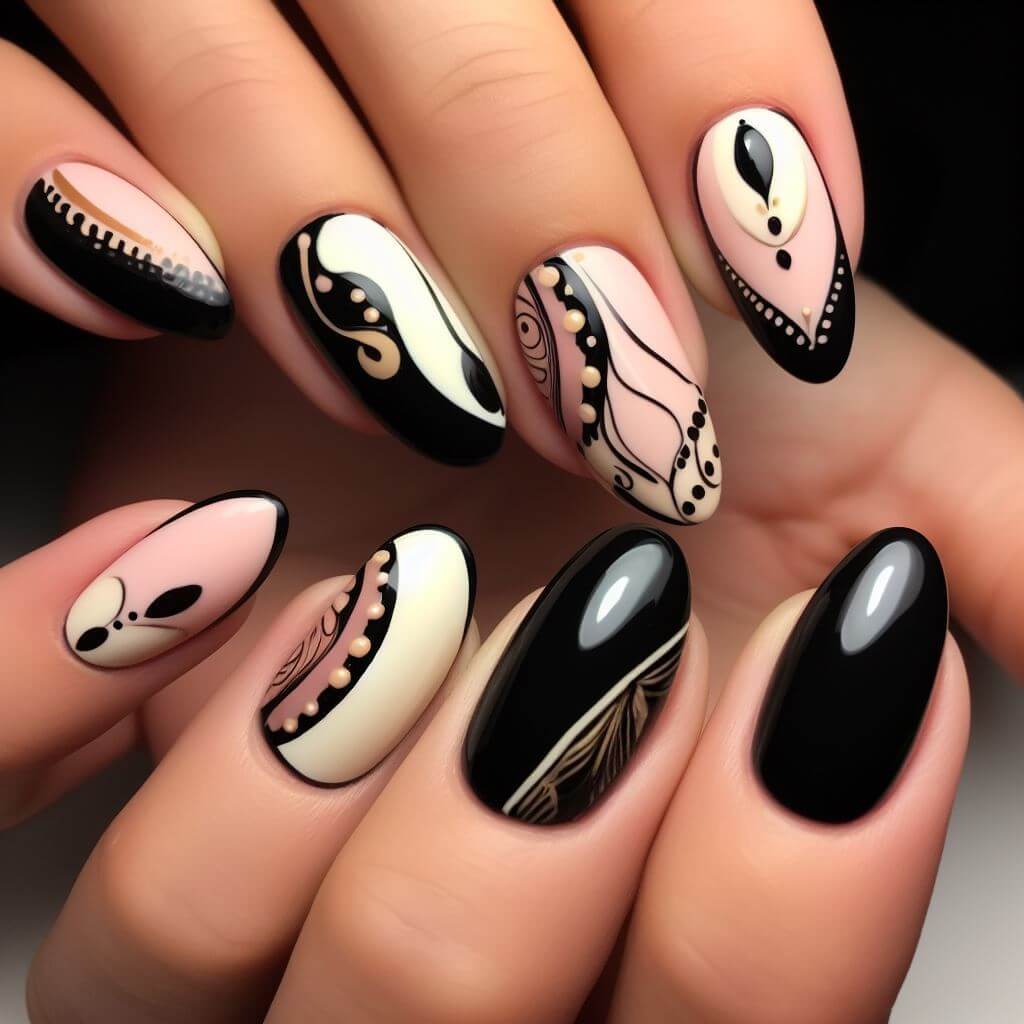 Draw focus to the base of your nails by painting a semi-circle or specific design near the cuticle. Paired with a contrasting color, this design makes a subtle yet impactful statement.
24. Black with Pastels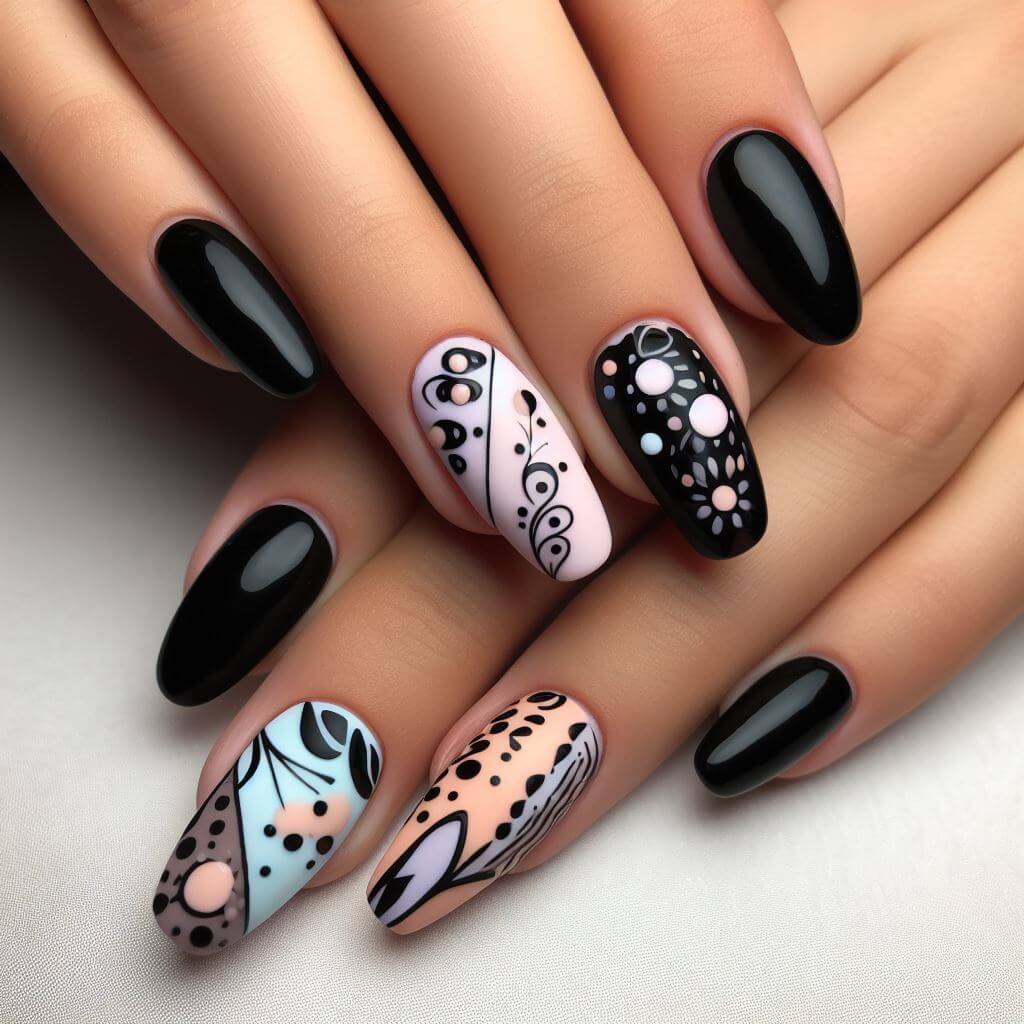 Contrast is key. Use soft pastel shades as the background and overlay them with bold black patterns or designs. This juxtaposition creates a delightful visual interest.
25. Crystal Embellishments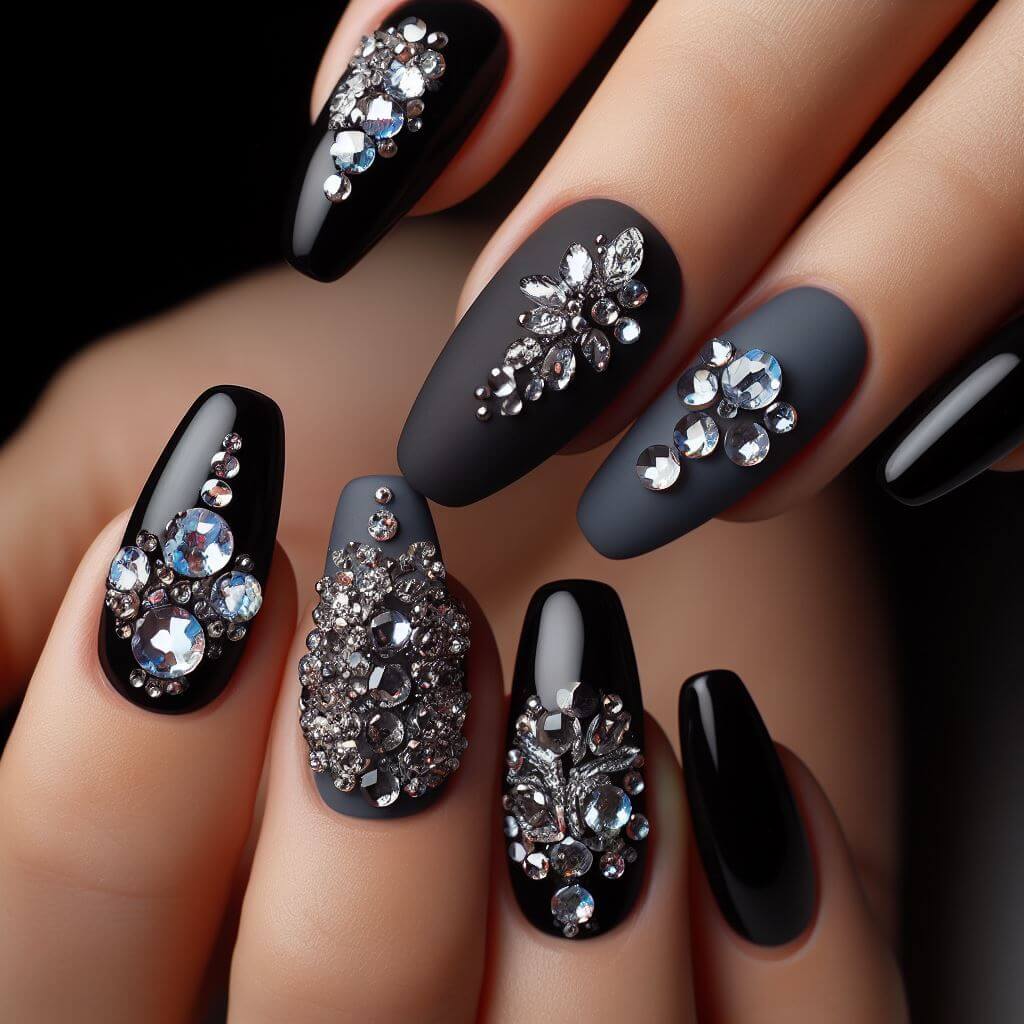 Turn your nails into jewelry by embellishing a matte or glossy black base with shimmering rhinestones or crystals. The combination exudes luxury and charm.
26. Half and Half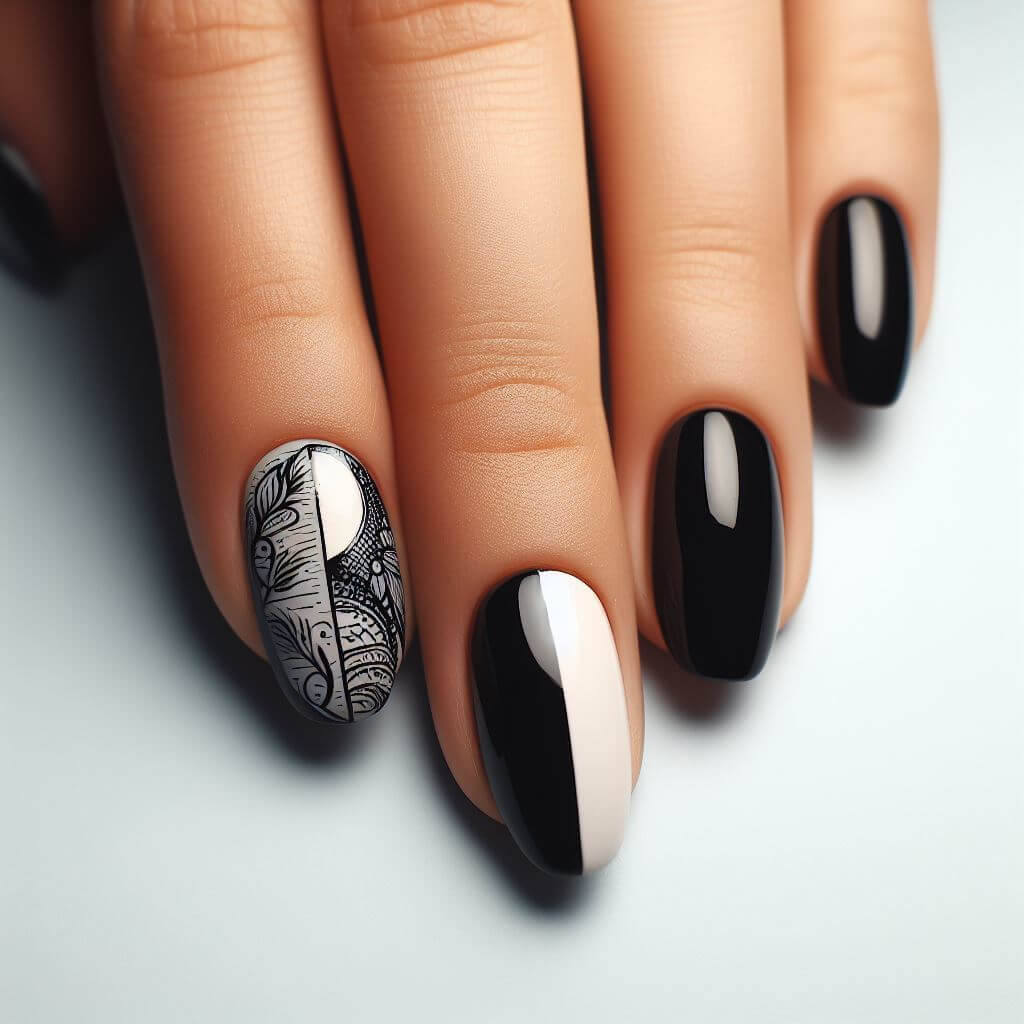 Create a visual division by painting one-half of the nail in black and the other in a contrasting shade. The result is a dual-toned look that's both modern and chic.
27. Metallic Accents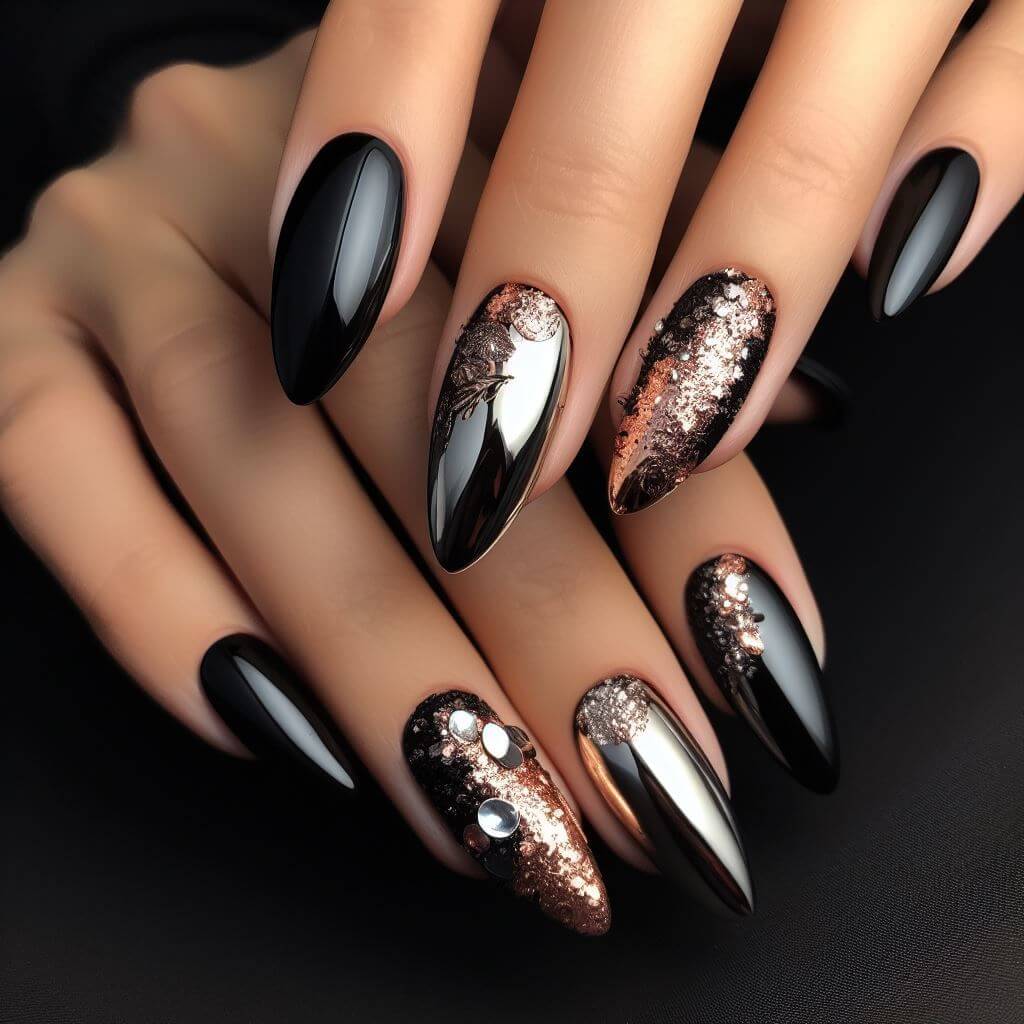 Infuse a touch of glam by incorporating metallic hues like silver, copper, or chrome with black. Whether in stripes, dots, or patterns, metallics always add a luxe feel.
28. Monochrome Magic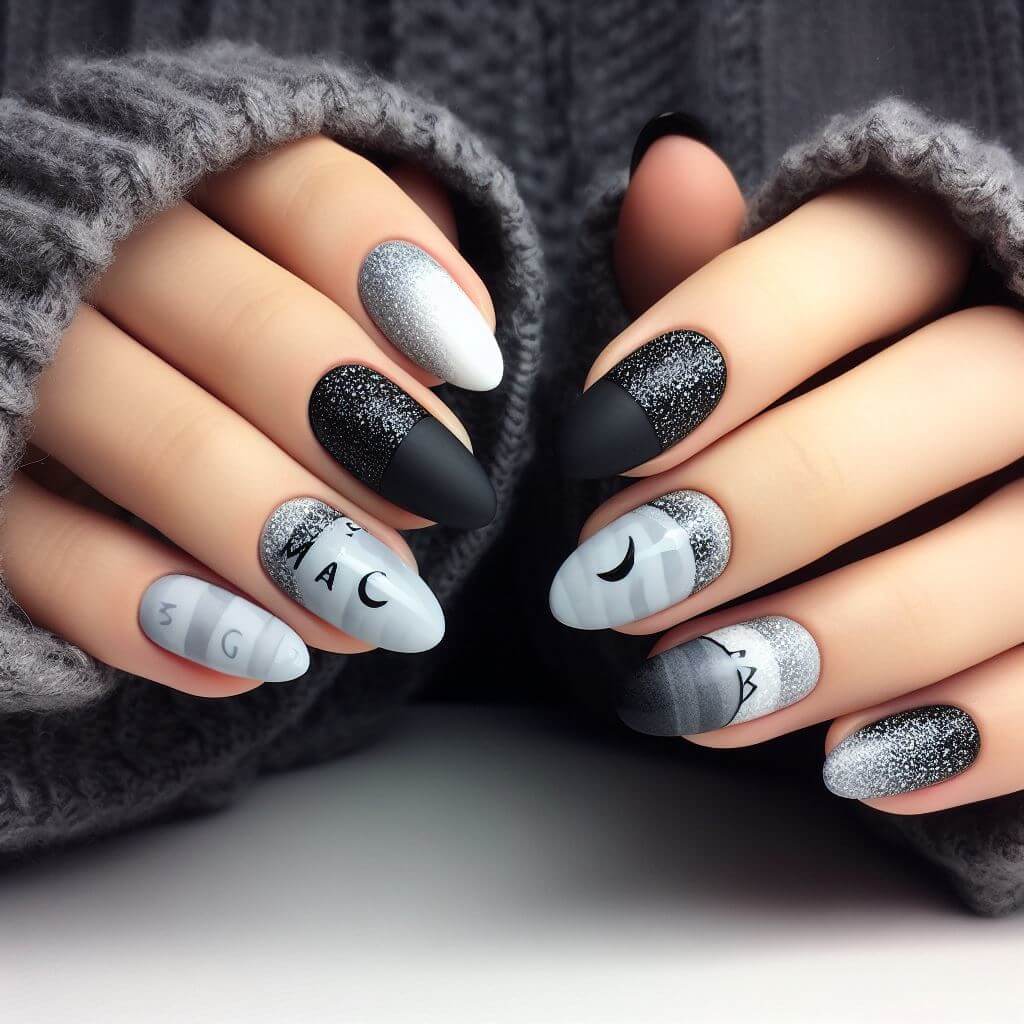 Celebrate shades of gray. Combine them with black to craft monochromatic designs that are subtle yet sophisticated, offering a muted elegance.
29. Holographic Tints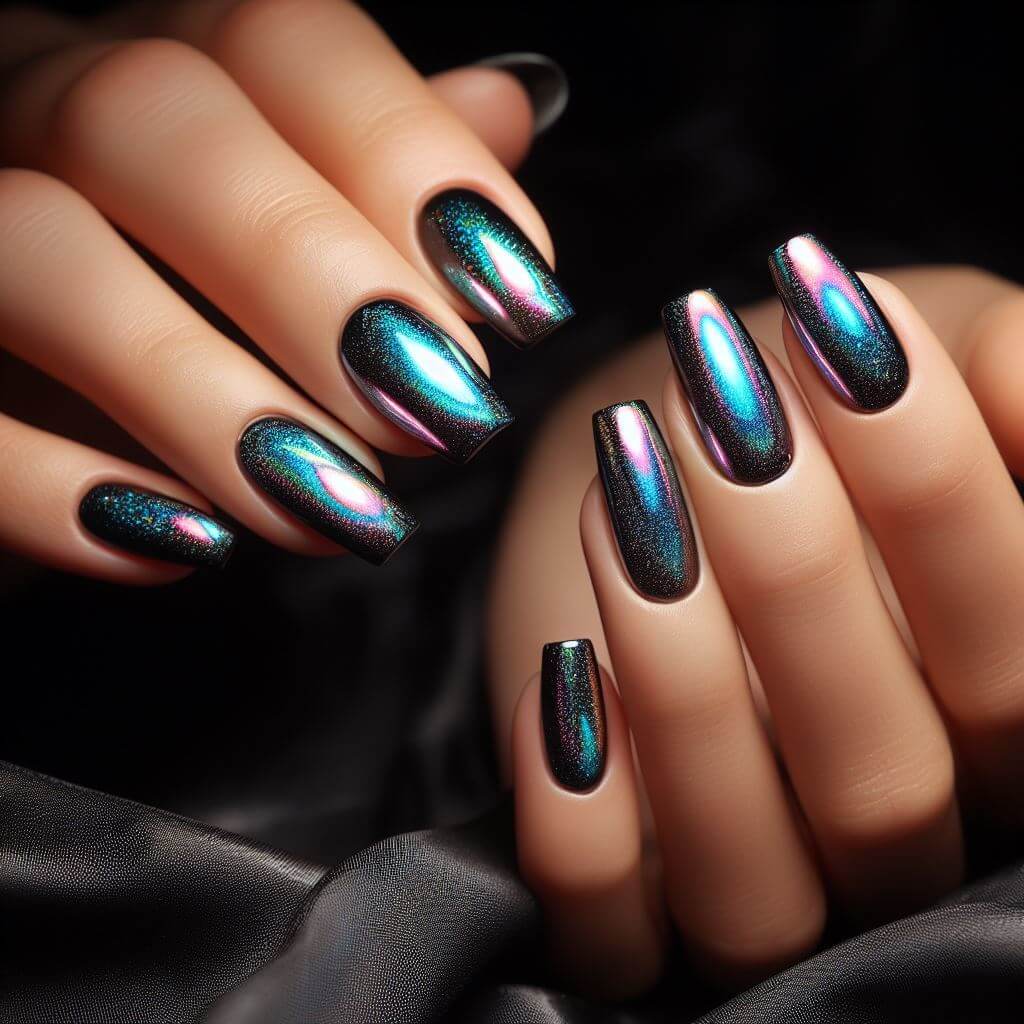 Take a futuristic route by layering holographic polish or glitter over a black base. The shifting colors provide a mesmerizing effect, reminiscent of a space nebula.
30. Chevron Patterns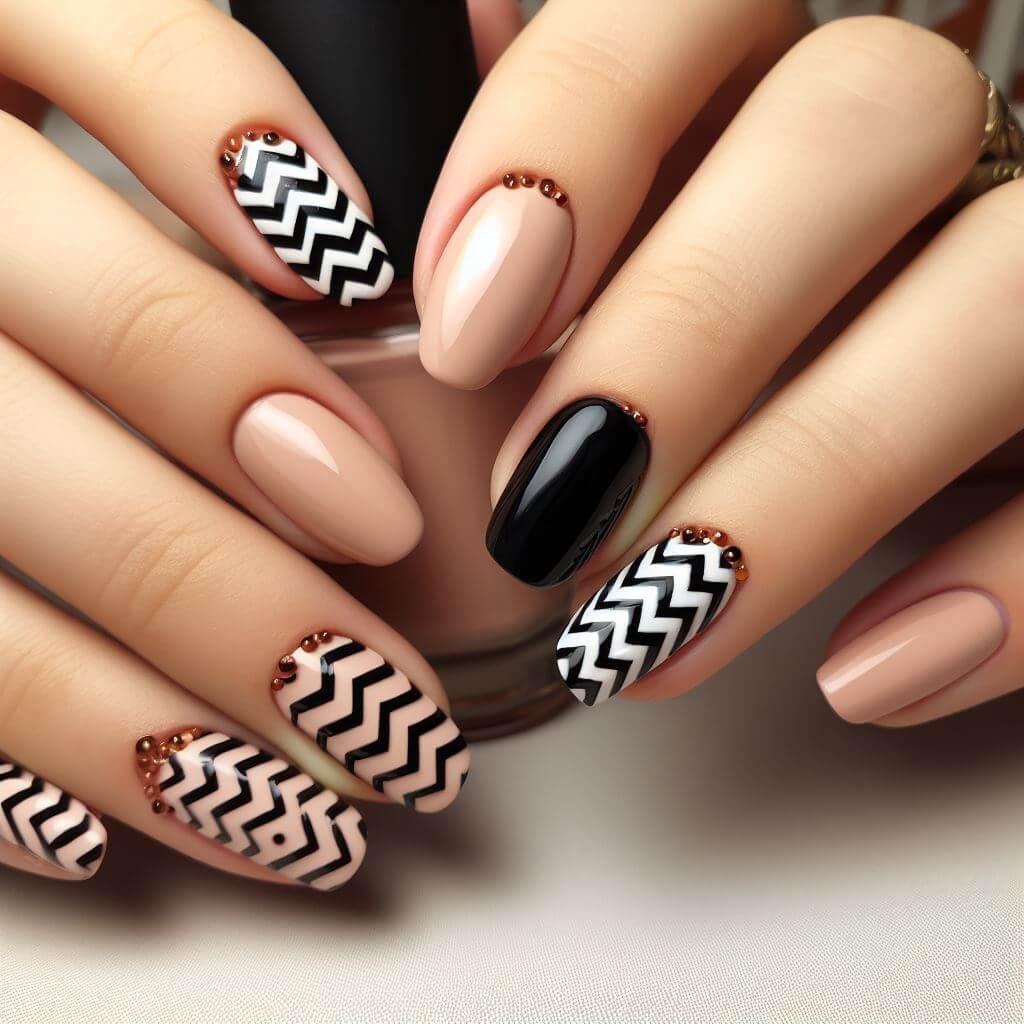 Sharp and stylish, chevron stripes using black polish on a contrasting or nude base give your nails a dynamic look that never goes out of trend.
31. Ruffian Design
Showcase a crescent shape at the base of the nail using black, overlaying another vibrant or muted color. It's a design that's edgy yet refined.
32. Windowpane Design
Embrace simplicity with thin black lines crisscrossing to form squares or rectangles, reminiscent of a windowpane. It's minimalist but speaks volumes.
33. Quilted Effect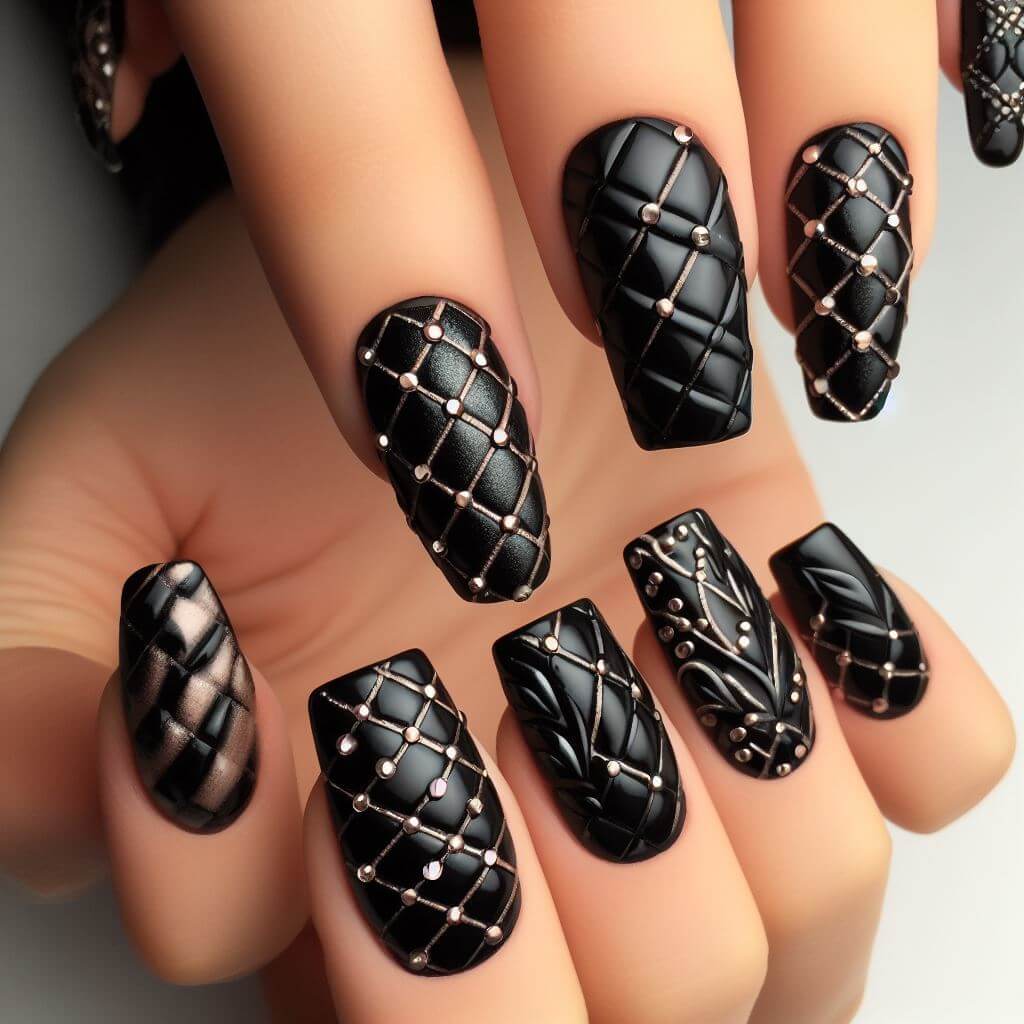 Achieve a tactile appearance with a quilted design using black polish. Enhance the pattern by adding small studs at the intersections, giving a touch of opulence.
34. Dripping Effect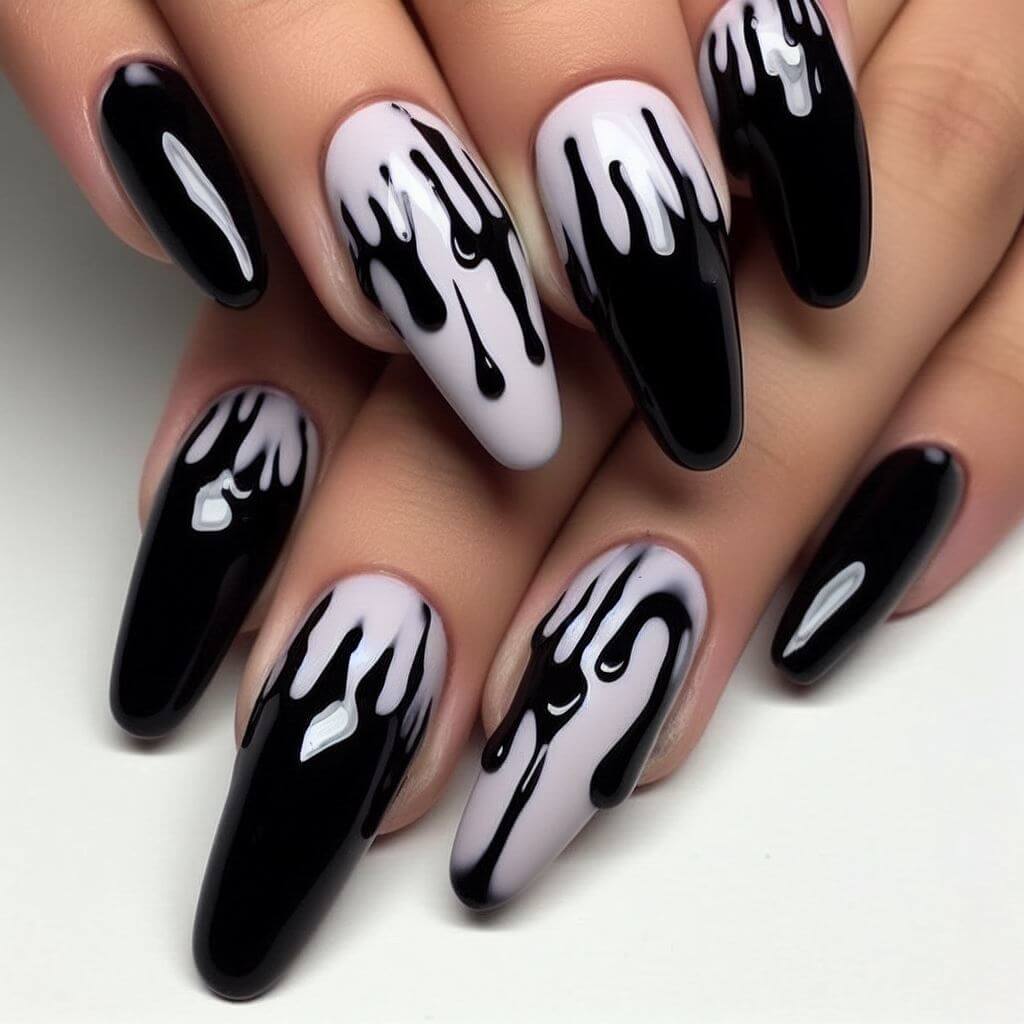 Play with visuals as you make it appear that black polish is dripping down the nail. Pair with bright colors for a more dramatic effect.
35. Tribal Patterns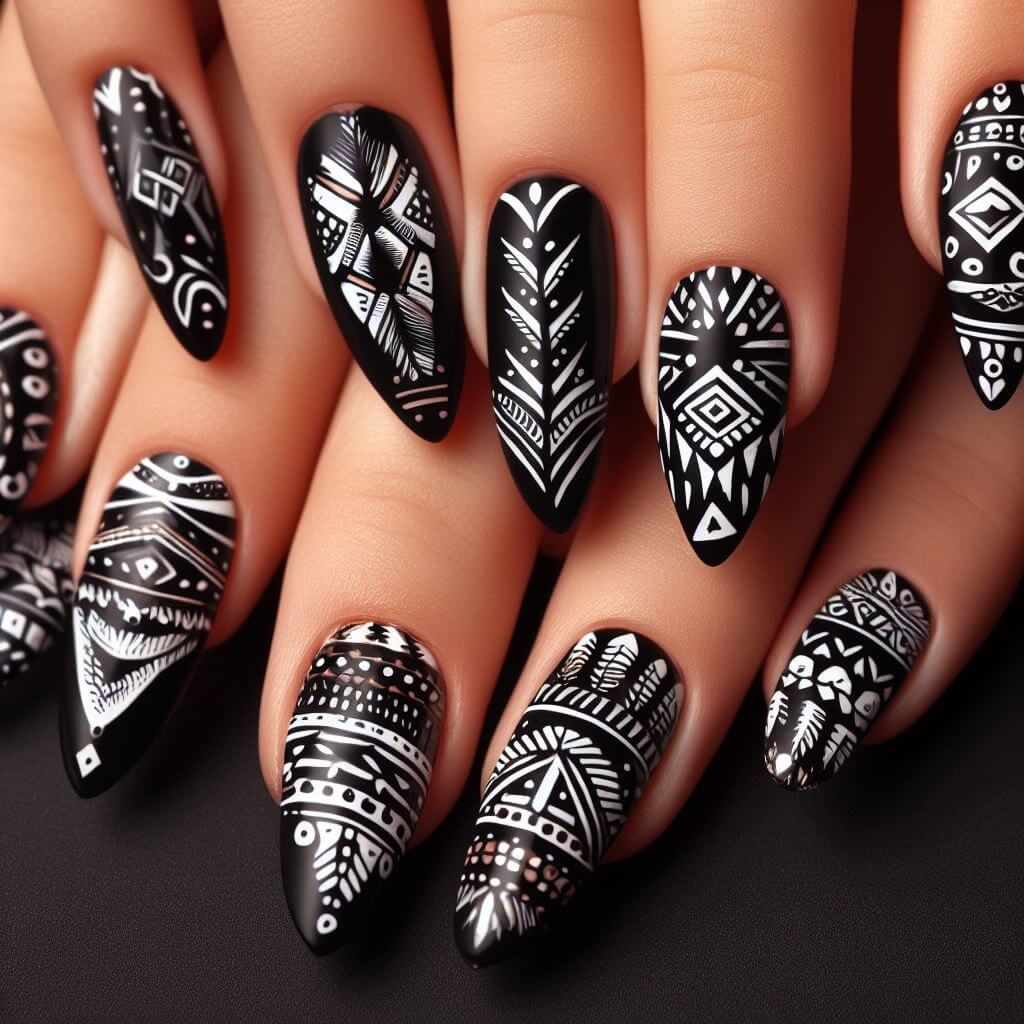 Go ethnic with tribal or Aztec-inspired patterns in black against a vivid or pastel background. The intricate designs showcase a rich cultural narrative.
36. Comic Art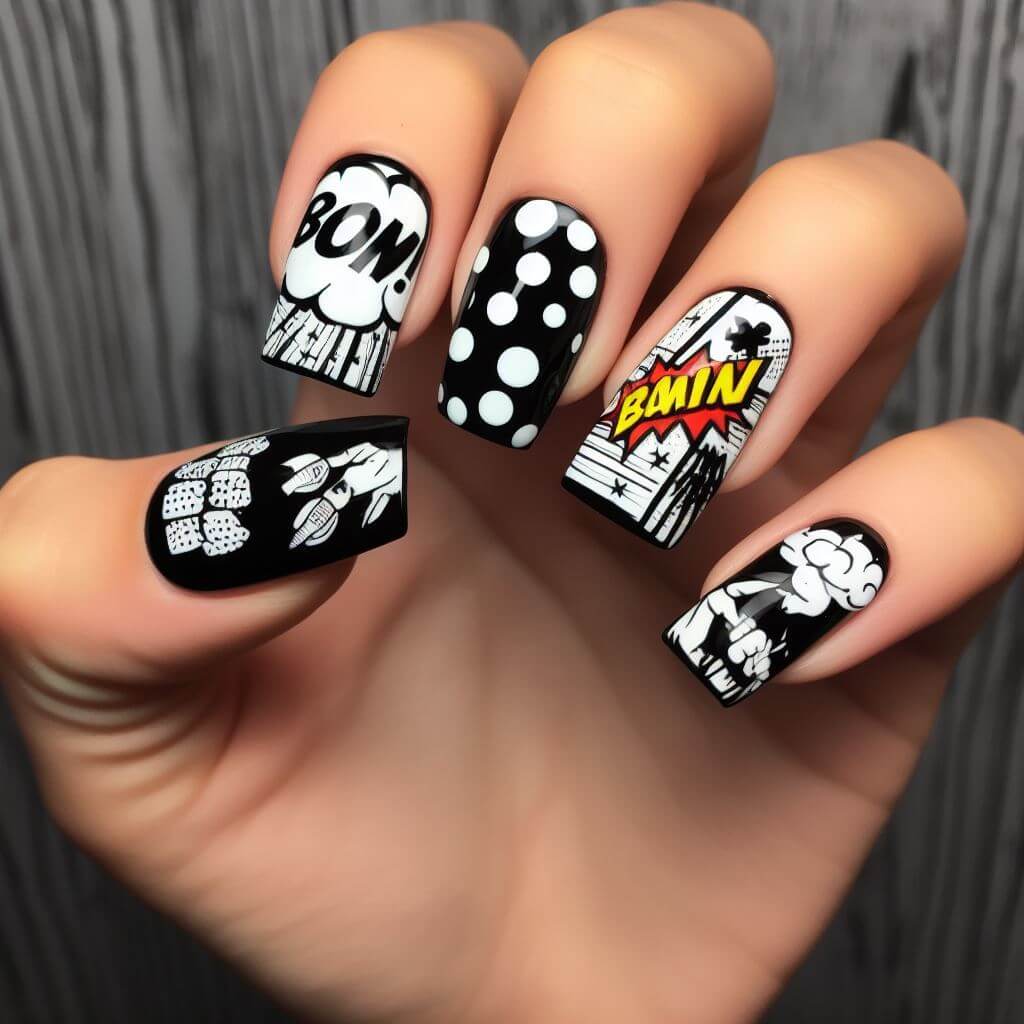 Capture the vivacity of comic strips with pop-art designs outlined in black. Think bold expressions, dotted patterns, and vibrant colors.
37. Crackle Effect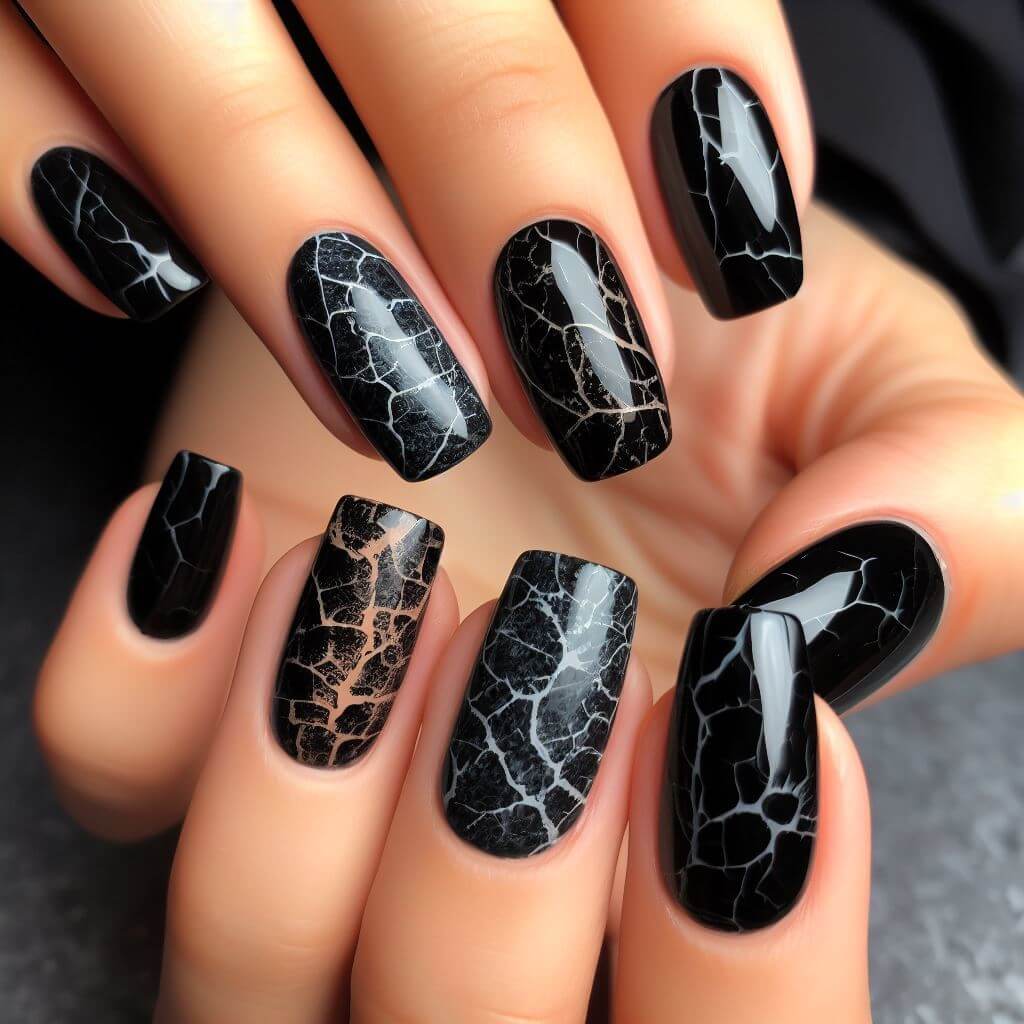 For a rustic, edgy vibe, use a crackle-effect polish over a contrasting base. The unique texture and appearance ensure your nails stand out.
38. Stamped Patterns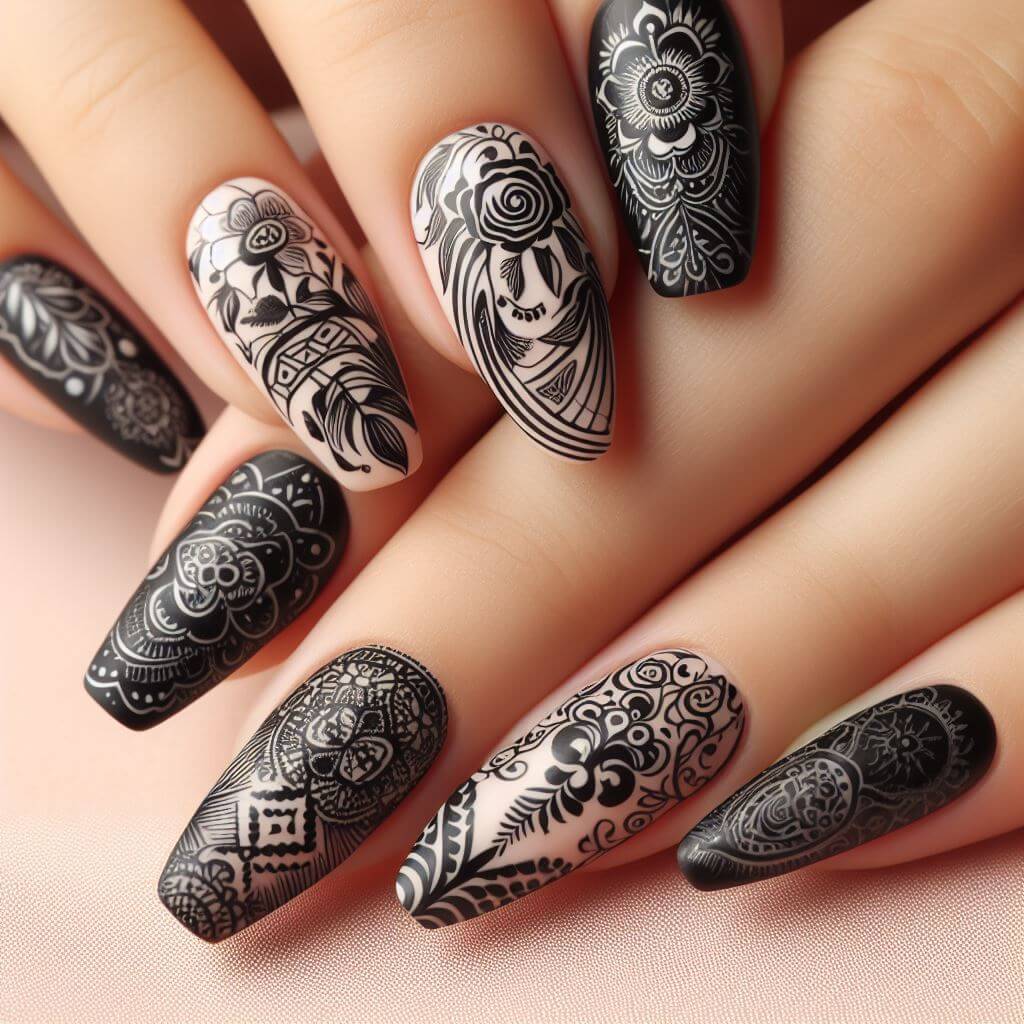 Using nail stamping plates, transfer intricate black designs over a light or contrasting base. The precision and detailing are sure to be conversation starters.
39. Metal Mesh Look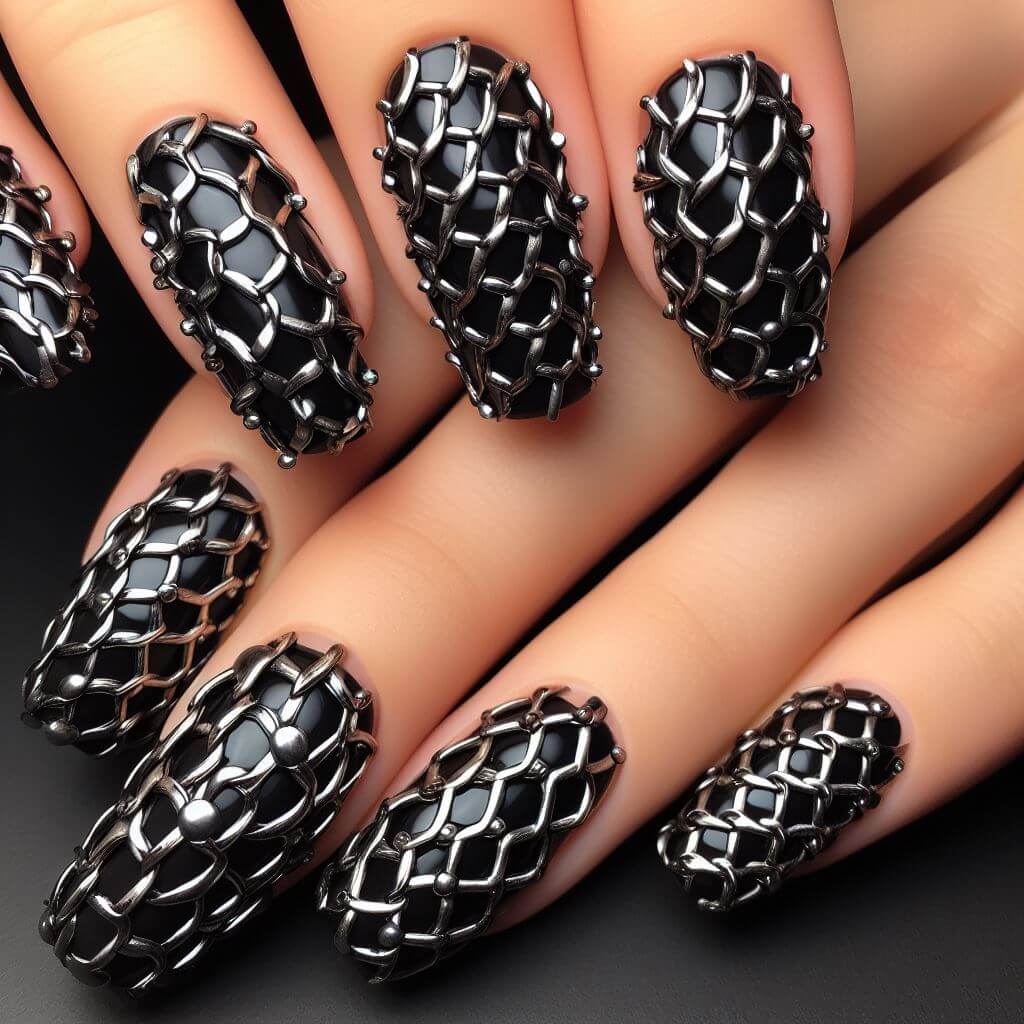 Mimic the industrial look of metal mesh or chain-link fences with black polish. It's a design that's edgy, modern, and sure to grab attention.
40. Fishtail Braid Design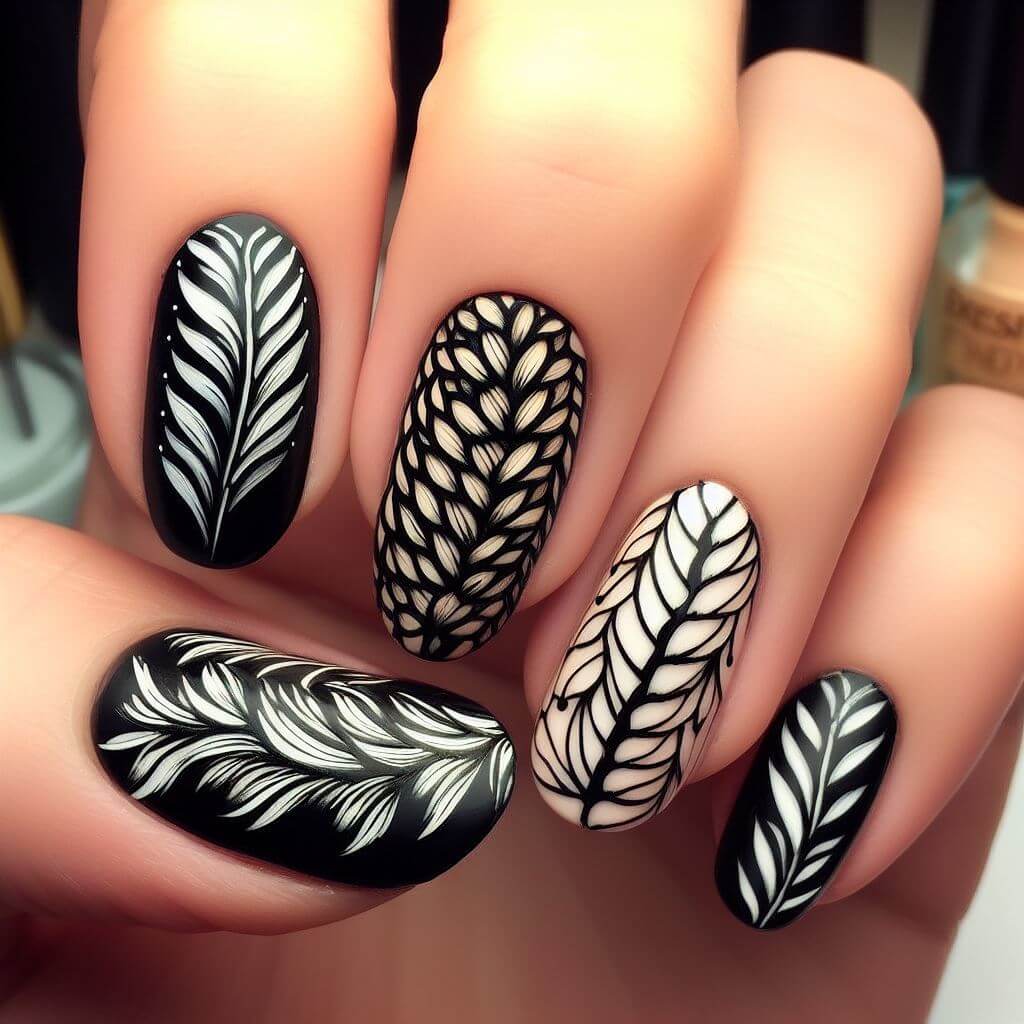 Draw inspiration from the intricate fishtail braid by using black polish interwoven with other colors, creating a mesmerizing pattern.
Conclusion:
The versatility of black allows it to be the star or the perfect complement in nail art. From the simple elegance of a matte finish to intricate designs that tell a story, black nail polish is the quintessential tool for anyone looking to make a statement. Whether you're feeling edgy, elegant, playful, or chic, there's a black nail design waiting to be explored.
So, the next time you reach for that bottle of polish, let the allure of black guide your creative spirit.